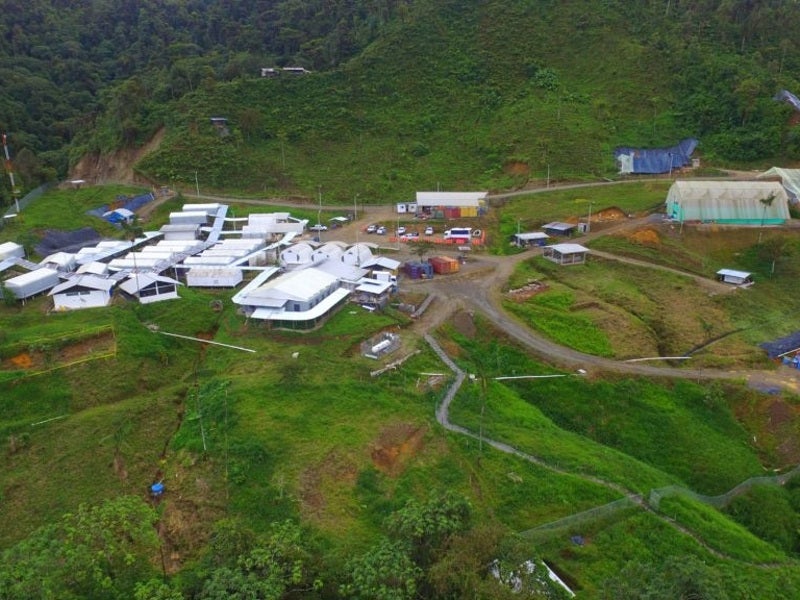 The Cascabel copper-gold project is a large high-grade copper-gold porphyry exploration mine located in the Cascabel region of northern Ecuador.
The project is being developed by Exploraciones Novomining (ENSA), a joint venture of SolGold (85%) and Cornerstone Resources (15%). ENSA holds complete ownership of the Cascabel concession.
Initial mineral resource estimates of the project were released in December 2017. A preliminary economic assessment (PEA) study was carried out by Cornerstone to identify the potential mineral availability at the project location. The results of the PEA were announced in May 2019.
The preliminary feasibility study (PFS) on the project is scheduled for completion in December 2019, while the definitive feasibility study is expected to be completed by the end of 2020.
Cascabel copper-gold project location
The Cascabel copper-gold project is located in the north-western part of Ecuador near the Andean Copper Belt. The main target of the Cascabel project is the Alpala deposit.
The site is under-explored and is just 60km away from the Cu Llurimaga copper project, which has inferred resources of 982 million tonnes (Mt).
Cascabel copper-gold project geology, and mineralisation
The Cascabel project is characterised by the presence of Oligocene to Miocene andesitic flows and breccias located below Upper Cretaceous sedimentary rocks, which are intruded by granodiorite and diorite batholiths and stocks of the Miocene age.
"The Cascabel copper-gold project is located in the north-western part of Ecuador near the Andean Copper Belt."
Exploration works at the project identified five different types of lithologies, including diorite, andesite, conglomerate, sediments, and later colluvium. Additionally, five porphyry centres were identified as primary exploration targets. Aguinaga, one of the targets, is characterised by a 500m x 500m annular magnetic flow.
Copper mineralisation is majorly hosted in B veins and C-type sulphide veins, which are also associated with gold grades. Gold occurs in particulate form in chalcopyrite, bornite, or pyrite.
Cascabel copper-gold project reserves
The initial mineral resource estimate (MRE) for the project was published in January 2018. The mineral resources doubled following an MRE conducted in November 2018.
The Cascabel copper-gold project is estimated to hold indicated resources of 2,050Mt containing 8.4Mt of copper grading 0.41% Cu, 19.4Moz of gold grading 0.29g/t Au, and 12.2Mt of copper-equivalent (CuEq) grading 0.60% CuEq.
Inferred resources are estimated to be 900Mt, containing 2.5Mt of copper grading 0.27% Cu, 3.8Moz of gold graded at 0.13g/t Au, and 3.2Mt of CuEq graded at 0.35% CuEq.
Mining and ore processing
Initial assessments made under the PEA suggest the usage of low-cost underground mining methods such as block caving or panel caving.
A copper concentrator and a gold recovery circuit are proposed to be used for processing the ore from the Alpala deposit. The processing circuit will include either two or three parallel modules with a capacity ranging between 40 million tonnes per annum (Mtpa) to 60Mtpa.
Infrastructure
The project site includes a connection to a railway line connecting an existing port, as well as a highway connection for transportation. Power facilities and nearby communities for providing accommodation for the workforce are also available.
Additional infrastructure needed to be developed includes access roads, storage facilities, water and power supply systems, underground mine infrastructure, and surface facilities.
Contractors involved
The MRE for the project were prepared by SRK Exploration Services and SRK Consulting UK. The initial MRE report was produced by SRK in January 2018.
John Wood Group, an energy services firm based in the UK, was appointed as the lead consultant for the project. It will be responsible for mineral processing, the study of project infrastructure components, and material handling, under the contract.
Geotechnical, hydrogeology and mine planning works were undertaken by Mining Plus.
Knight Piesold will be responsible for environmental protection and community-related activities, while Ernst and Young will offer economic analysis services.