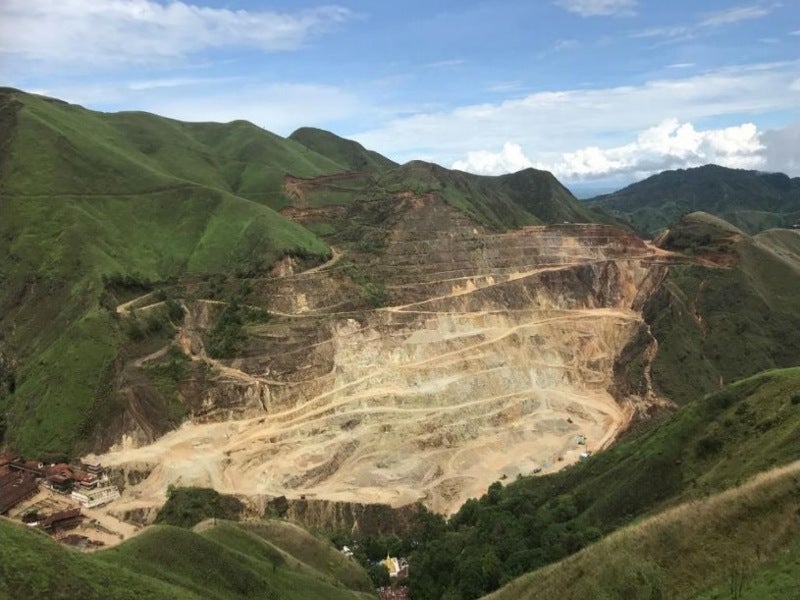 The Bawdwin Joint Venture is re-developing the historical Bawdwin mine located in Myanmar. Credit: Myanmar Metals.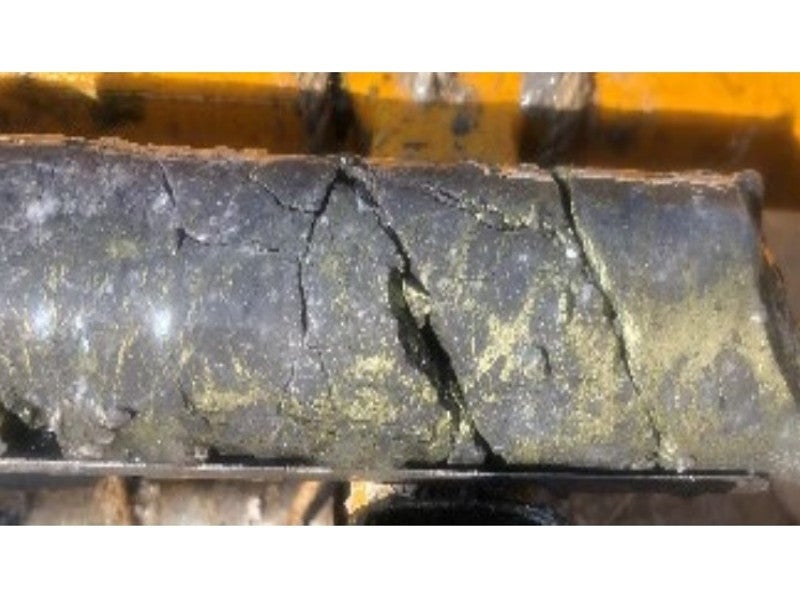 Chalcopyrite is identified at the project, which majorly hosts galena and sphalerite. Credit: Myanmar Metals.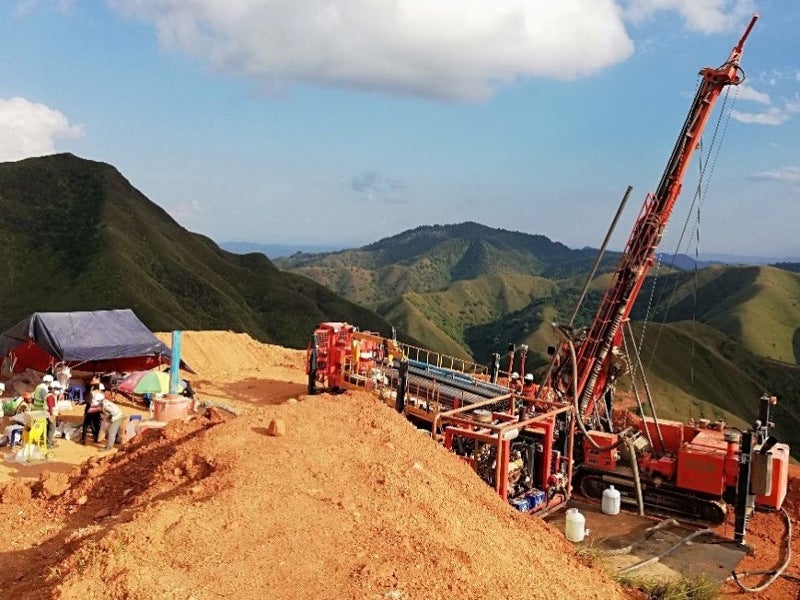 Reverse circulation drilling activity has been taking place at Bawdwin. Credit: Myanmar Metals.
Bawdwin lead-silver project is a combined open-pit and underground project being developed in Myanmar.
The developer of the project is Bawdwin Joint Venture (Bawdwin JV), a consortium between Myanmar Metals (51%), Win Myint Mo Industries (WMM) (24.5%), and EAP Global (EAP, 24.5%).
The project involves redevelopment of the world-class Bawdwin mineral field, which is currently under care and maintenance. MML holds a stake in the project under a production sharing agreement (PSA) with WMM and Mining Enterprise No 1, a Myanmar Government business entity.
Initial scoping study of the project was completed in November 2017, while scoping study of the China Pit (Starter Pit) finished in August 2018.
A pre-feasibility study (PFS) of the project, focused on Starter Pit, was completed in March 2019. The project proposed to begin pilot-scale mining activities in 2019 and full-scale operations in 2021.
Once operational, the Starter Pit is forecast to be the third biggest producing lead mine and one of the biggest producing silver mines.
Bawdwin lead-silver project background
Chinese artisanal miners conducted mining activities at the historical Bawdwin mine during the 15th century. The project was the largest producing lead mine and one of the world's biggest producing silver mines before the Second World War.
Following the war, the Myanmar state-owned mining entity held the mining concession. WMM acquired the rights of the project in 2009 and placed it under care and maintenance.
In June 2018, Myanmar Metals exercised an option to acquire a 51% participating interest in the project and formed the Bawdwin JV.
Geology and mineralisation of Bawdwin lead-silver project
Located in north-east of Shan State, Myanmar, the Bawdwin mine hosts a Tier 1 polymetallic deposit in 38km². It hosts volcanic, intrusive, and sedimentary rocks of late Cambrian to early Ordovician age.
The deposit is hosted within an early Ordovician volcanic and intrusive complex comprising of volcaniclastic tuffs of the Bawdwin volcanic formation. It is classified as a structurally controlled massive to disseminated sulphide deposit hosted largely within the Bawdwin Tuff.
Most of the sulphide mineralisation at Bawdwin comprises argentiferous galena, sphalerite, chalcopyrite, and pyrite. It also hosts covellite, tetrahedite, gersdorffite, cobaltite, and other sulphide minerals in smaller quantity.
In addition, copper mineralisation is identified at the project, along with lead and zinc.
Bawdwin lead-silver project reserves
The probable ore reserves of the Starter Pit are estimated to be 18.4 million tonnes (Mt), grading 6.4% lead, 169g/t silver, and 3.4% zinc.
As of February 2019, the JORC-compliant indicated and inferred mineral resources at Bawdwin are estimated to be 94.2Mt grading 4.2% Pb, 2.0% Zn, 0.2% Cu, and 107g/t Ag.
Mining and processing of ore at Bawdwin project
The Starter Pit (central China Lode) is initially proposed to be mined using conventional open-pit mining method, involving drilling and blasting followed by loading and hauling.
First phase mining will be conducted for 13 years at the Starter Pit, which extends to a depth of 755m relative level. Underground mining operations will be conducted from the sixth year to access the mineralised material in the Shan and Meingtha lodes.
An estimated 24.7Mt of mineralised material will be mined and processed during the first phase, grading 6.4% Pb, 168g/t Ag, and 3.2% Zn. The mine is expected to recover 1.39Mt of lead, 118.8 million ounces (Moz) of silver, and 555,000t of zinc. From this, it is projected to produce 2.3Moz of lead-silver concentrate and 1.05Moz of zinc concentrate.
"An estimated 24.7Mt of mineralised material will be mined and processed during the first phase."
The project will employ a two million tonnes per annum (2Mtpa) conventional differential sulphide flotation processing facility to produce a high-grade lead-silver concentrate and a zinc concentrate.
Ore will be processed using conventional processes of crushing and grinding followed by separate lead and bulk zinc flotation. Produced concentrate will be thickened, filtered, and loaded into containers for transport by road to customers.
Infrastructure facilities at Bawdwin
An existing road to the project from Namtu will be upgraded to improve access, in addition to developing passing bays.
Primary water supply will be sourced from Nam La Creek, while secondary water supply will be from the underground workings via Marmion Shaft.
The existing grid power near the project will provide the power required by the Bawdwin processing facility. It will be supported by a new 22km-long 66kVA line and switchyard, which will be connected to the existing grid power supply.
Workers are proposed to be accommodated at the 600-room capacity accommodation facility located near the processing facility.
Contractors involved
Lycopodium Minerals reviewed the processing and infrastructure aspects of the project, as part of the PFS, while CSA Global revised the indicated and inferred mineral resource estimates.
Other consultancies involved with the PFS preparation were Valentis Services, Coffey, McMahon Mining, and Battery Limits.
Subcontractors involved in the PFS preparation were Titeline Drilling, GeoLogica, E-Precision Laboratory, Orway Mineral Consultants, Townend Mineralogy, MODA, ECG, ALS Laboratories, Knight Piesold, Southern Geoscience Consultants, and Antrak Logistics.
Cube Consulting is responsible for conducting scoping studies for the two proposed Shan and Meingtha underground mines at the Bawdwin lead-silver project.