Cirlock is an Australian-owned and family-operated business, specialising in lockout and tagout equipment for the mining industry.
Founded in 1992, Cirlock has been providing lockout equipment to Australia's largest mines and power stations for a number of years. Having started out by primarily providing our Cirlock system lockout devices for circuit breakers, we then developed the Fuselock system of lockout devices for fuse holders, and have since been steadily growing and expanding our range of lockout equipment.
Lockout equipment for energy sources
Cirlock's aim is to provide a full range of lockout equipment for energy sources in all industries, and our catalogue shows we are well on the way to achieving this. Almost all of our products are designed and manufactured by us or on our behalf in Australia.
We pride ourselves on our short delivery times, with everything being dispatched from our factory on the Sunshine Coast. Products can be customised to all your specific needs, and welcome both small and large orders.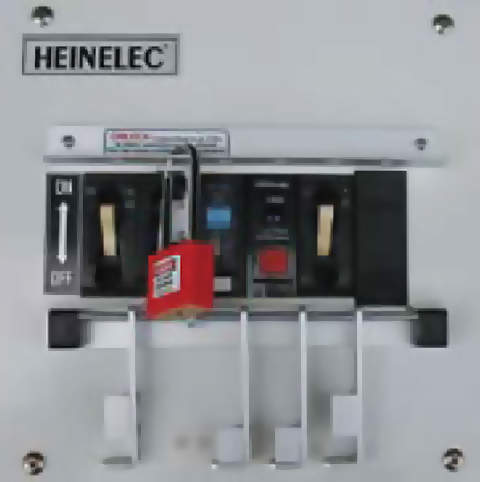 Almost all of our products are designed and manufactured by us or on our behalf, in Australia.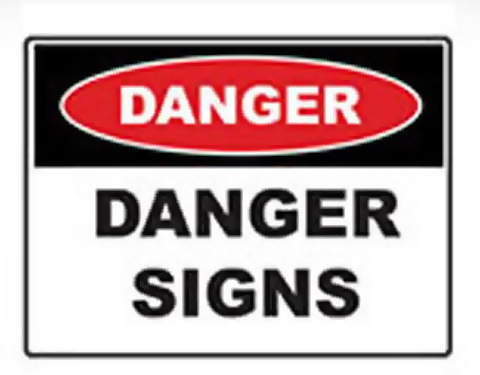 Cirlock provides a range of lockout and tagout equipment, including circuit breaker, cable, plug and valve lockouts.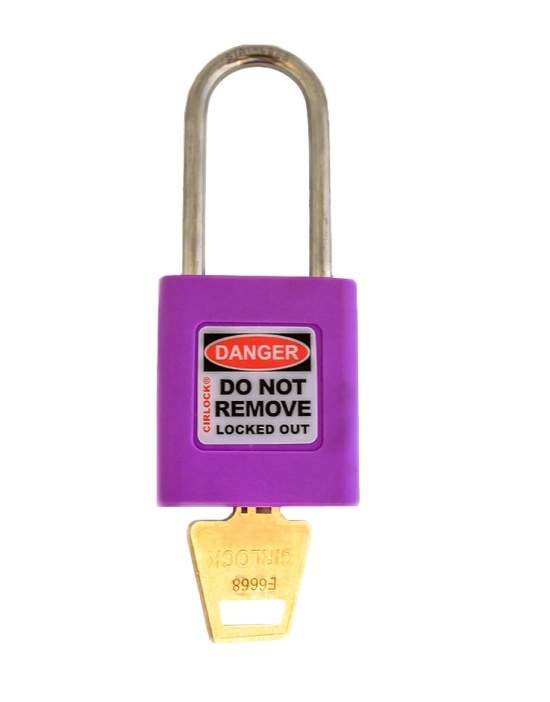 Cirlock's safety lockout padlocks are made as master keyed, keyed alike or keyed different in nine colours, including purple and pink.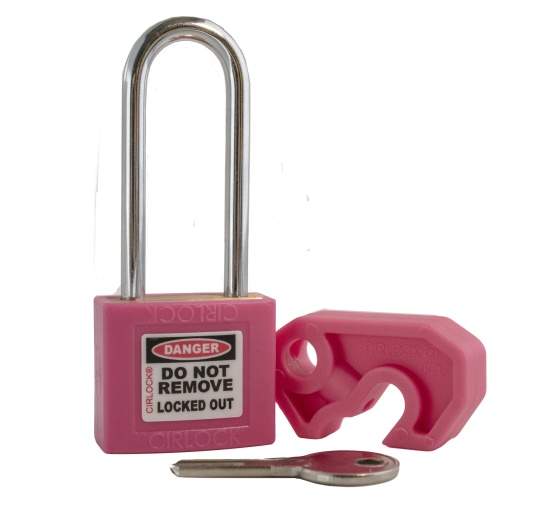 Cirlock's new pink padlock lockout kits contribute to the National Breast Cancer Foundation, while helping the company achieve the goal of zero deaths onsite by 2030.
Cirlock provides a range of lockout and tagout equipment including, circuit breaker, cable, plug and valve lockouts, lockout hasps, tags and lockout padlocks, kits and stations, to name but a few.
Group lock boxes
The all-new GLB-4 group lock is a sturdy, welded aluminium construction, with red powder coat finish, a tough polycarbonate clear sliding lid, provision for A4 size procedures to be placed outside or inside the box (or even in the lid) and 20 padlock holes for up to 9mm shackle sizes.
The GLB-4 can be wall mounted and also has a convenient carry handle. The lock box can also be used for storing safety padlocks when not in use, with 24 specially designed Cirlock padlock hooks provided.
The PCB-1 combines one of our GLB-2 group lock boxes and an A4 permit clipboard. Also included are a clear protective A4 size document holder, a carry handle and hanging hooks. PCB-1 can also be wall mounted with screws. The backing plate, handle and group lock box are made from sturdy bright yellow poly material (ABS & HDPE) and is non-corrosive and non-sparking. Dimensions are 240mm wide x 500mm high. This group lock box accommodates up to 16 padlocks.
Energy source lockout labelling
Cirlock's unique and versatile energy source lockout labelling system, Cirlock Lockout-ID® makes it very simple easy to identify energy sources to plants and machinery. Designed to prevent accidents, the system helps to ensure that all power and energy is isolated before repair and maintenance work is commenced.
The system includes pre-printed, colour coded and numbered (1-100) adhesive labels for eight different types of energy for placement on switches and valves, together with matching labels and chart for placement on machinery and equipment. A lockout labelling starter kit will get most companies well started on identifying and labelling energy sources for lockout purposes.
Cirlock's LST range of lockout stations is now also available with dust protection lids. A procedure / manual holder PHL-1 with dust lid has also been added.
Universal lockout devices for circuit breakers
Cirlock has got a variety of universal lockout devices for circuit breakers in all sizes and brands, as well as for fuse holders in all sizes. Gate valves and ball valves in all sizes can be locked out, as can electrical plugs and hose couplings with uniquely designed equipment.
Safety lockout padlocks
Cirlock's own brand of tough safety lockout padlocks, are made with Xenoy material housing, stainless steel shackle and brass key way. These locks are available in seven different colours, master keyed, keyed alike or keyed different in any combination needed.
All Cirlock locks have the Australian standard of 50mm long and 5mm thick shackle, and a 'do not remove' and 'owners label' included. Locks can be personalised with logo or names, either engraved or on labels. Photo ID can also be supplied.
Colour-coded energy source lockout padlocks
Cirlock has released new lockout padlocks to its colour-coded range for ensuring the safety of power sources. The new pink and purple padlocks add to the existing selection of red, orange, yellow, green, blue, white and black.
Colour coding padlocks improves the safety of energy sources as the key holder or power supply can be quickly and easily identified. The padlocks come with one key for added security, as one key for one energy source means fewer mistakes.
The safety lockout padlocks are available with a logo or name label.
Cirlock's pink products are offered under the company's Real Men Wear Pink Campaign in aid of the National Breast Cancer Foundation. Selecting pink products supports the charity and the goal to reach zero deaths on-site by 2030.
Danger, out of service, commissioning and information tags
Danger tags, out of service, commissioning and information tags are standard stock items. They are made from poly material to withstand grease and water, and we also stock heavy-duty laminated versions and Photo ID types. Customised tags can be made in small or large quantities.
Cirlock's own brand, Cirtag®, includes a wide range of safety signs, labels and tags, as well as a full range of pipe ID markers – all made to Australian standards.
Kit form lockout equipment
Cirlock's lockout equipment is also available in convenient kit form in various sizes, by use of carry bags or wall mounted lockout stations. Cirlock is able to offer its customers flexibility, short delivery times and custom-made devices in large and small quantities, as well as 'standard off the shelf' lockout solutions.
Most of Cirlock's products are made in Australia, and are available through electrical and other Australian wholesalers, Cirlock's on-line shop or direct from Cirlock. Please visit the Cirlock website for more information on our product range, or contact us using the form below.