Dragflow heavy-duty pumps have been designed and built to work especially in burdensome conditions where generally normal pumps cannot operate. Our advanced design is based mainly on the agitator which is fixed on the main shaft.
Dragflow agitator enables our pumps to rise and convey liquids and mixtures with medium-high specific weight such as mud, slimes, silts, sand and gravel with sizes up to 120mm.
Our pumps can work in such bad conditions thanks to the special materials used to construct every pump. Agitator, impeller, lower and upper wear plate have been made of cast iron, including 30% chrome.
That means a hardness of about 600HB / 650HB and, as a consequence, an incomparable abrasion resistance.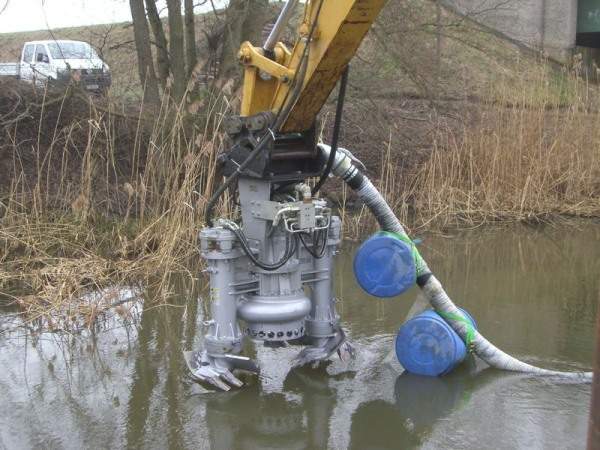 Complete hydraulic dredging unit equipment.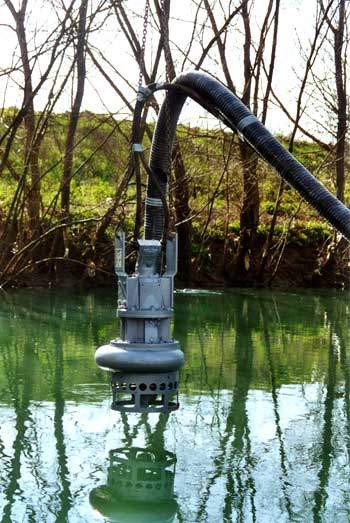 Dredging along river shore (hydraulic pump).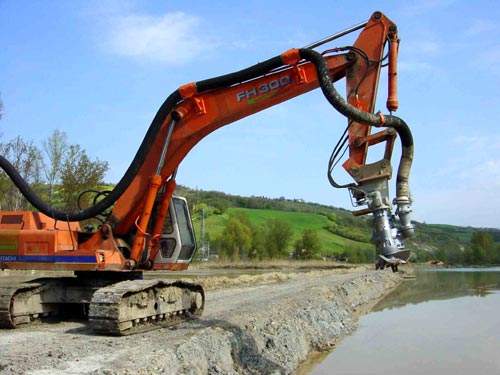 Hydraulic pump coupled with excavator machine.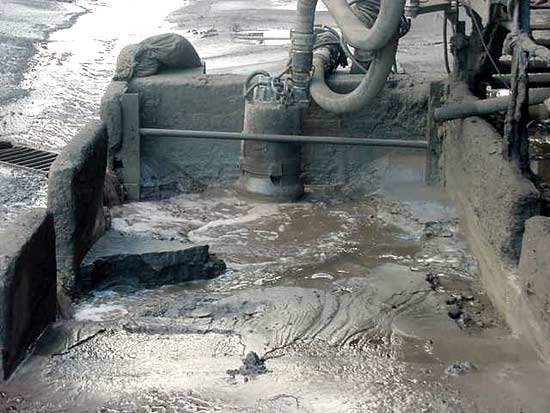 Typical heavy-duty application (please note lack of water).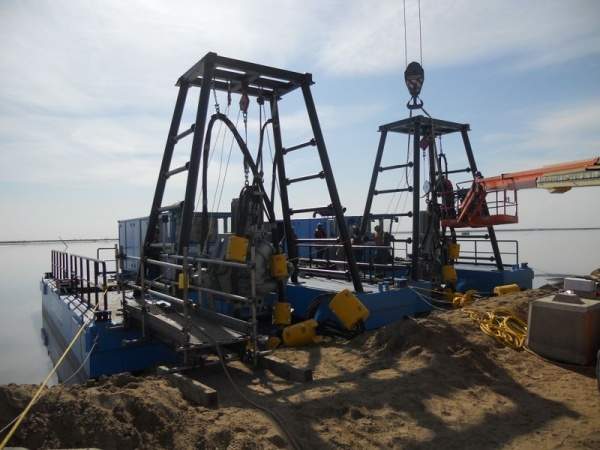 Dragflow dredges.
Heavy duty submersible pumps range
Heavy-duty submersible pumps with agitator are available either in hydraulic or in electric version.
Electric version power output: from 3.7kW up to 110kW
Hydraulic version power output: from 9kW up to 300kW
The pump can be equipped with cutters, which coupled with the agitator stir up the solids settled on the bottom in order to be easily pumped out and creating a homogeneous mixture with higher percentage of solids, getting a higher efficiency.
Please consider that Dragflow is the sole manufacturer of cutters in Europe.
Pumps for dredgding applications
Heavy duty submersible pump applications in dredging include: sand and gravel extraction; clean up of rivers, locks, lakes and lagoons; dredging of harbours and dams up to 300m depth and 120mm cross-section; intake towers cleaning-emptying of caissons and bulkheads.
Pumps for mining applications
Dragflow has a complete line of pumps for slurries with specific gravity up to 1,6 ton/m3. Heavy-duty submersible pump applications in mining include: clean up of settling tanks; tailing removal, desludging; removal of slimes; drilling waters; separation and grinding plant; inert wash sludge; minerals and foundry sand.
Pumps for pollution control
Heavy-duty submersible pump applications in pollution control include: refineries; port authorities; maintenance department in almost all industrial application; local environmental office; city hall environmental department; mines; underground; industrial waste.
Pumps for tunnelling
Heavy-duty submersible pump applications in tunnelling include: general hard dewatering; tunnel floor water control; tunnel making; removal of drill water.
Pumps for quarrying
Heavy-duty submersible pump applications in quarries include: sand and gravel extraction, water seepage; stock pile dewatering; wash plants; control of slurries; water reservoir desludging.
Dredges
Dragflow leads this field through the innovative design of systems able to improve productivity and to minimize downtime. Our products are well known for pumping large quantities of solids by the agitator and the cutters, which put in suspension the material settled at the bottom. Thanks to such features, Dragflow pumps deliver a higher quantity of dry tons per hour, than any other dredging system.
Modular and transportable dredging units
In addition, based on its long-term experience in submersible pumps, Dragflow has started to design and manufacture modular and transportable dredging units.
The use of simple components means low cost and easiness of maintenance, simplicity to repair possible breakdowns and low prices of spare parts.
As a result of flexibility of our equipment and modularity of its components, Dragflow can manufacture different types of dredges to comply with the different client requests. On demand, we can supply dredges in accordance to the rules of the Italian Naval Registration (RINA).
We are able to supply also automated and unmanned dredges and remote controlled dredges. These equipment minimise labour and maximise production of solids at the set flow rate.