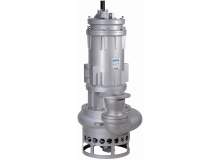 The Dragflow team constantly works not only to find new technological solutions that improve the performance of its products, but also to design specific solutions for contractors and end users, optimising sustainable operations with energy savings and reducing the environmental impact and overall costs.
Dragflow offers the widest range of submersible pumps, including the electric pumps below.
Heavy-duty pumps:
Pump provided of high-efficiency agitator to stir things up
High abrasion-resistance with high chrome wear parts
Low rotation speed to reduce wear effect
Able to handle up to 70% per weight material density
Electric motor in class H with high service factor
Super-duty:
Dragflow has developed a unique range of pumps for extreme heavy-duty applications. Pumps in this range are designed with oversized motor and exceptional structural quality to work in applications where all other pumps fail.
High-head heavy-duty:
High-head pumps are the ultimate innovation in heavy-duty pumps. These pumps are designed to handle everything from dirty water to the heaviest slurries, to a higher level than before.
No clog, recessed impeller:
No clog has a capacity of 100m3/h and power of 44kW to 60kW.
Characteristics:
Ensures the passage of solids up to 100mm through the pump casing, avoiding the risk of clogging, increasing the efficiency of the pump
Flowing solids are quickly discharge, reducing internal recirculation so the hydraulic efficiencies and pump wear life are increased as well
Due to the natural flow of the fluid thought the pump casing, considering that only a very small part of solids make contact with the impeller, fragile solids can pass through the pump with a very minimum risk of damage