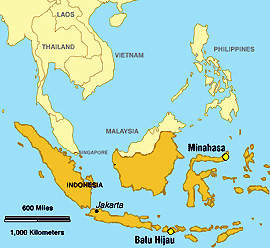 Batu Hijau is located on the Indonesian island of Sumbawa. Minahasa, also shown on the map, is another Newmont operation.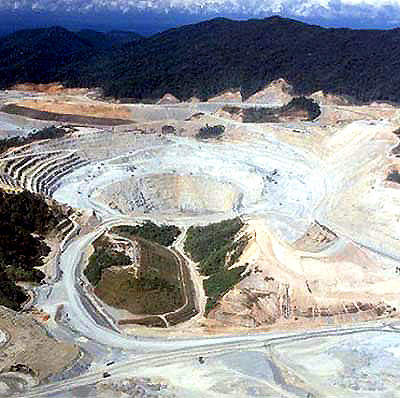 Aerial view of the Batu Hijau open pit.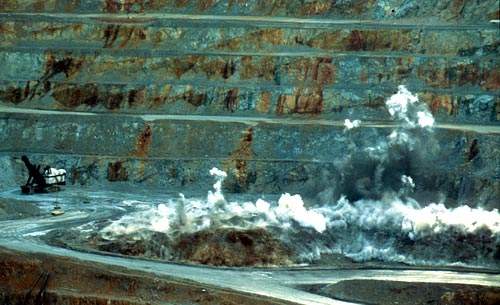 Blasting in the open pit.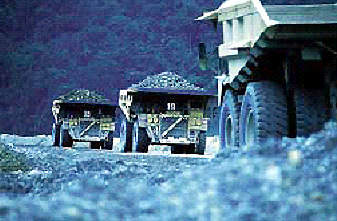 Haul trucks moving ore at Batu Hijau.
Aerial view of the concentrator at Batu Hijau.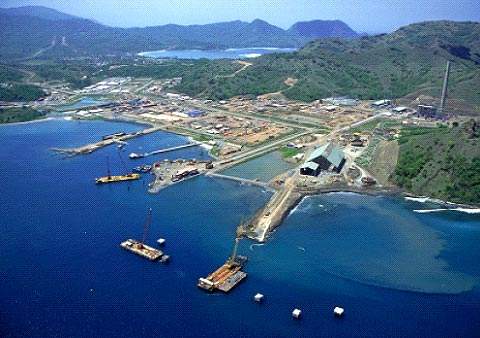 The mine's dedicated port facilities at Benete Bay.

Reclamation reseeding through geotextiles used to prevent erosion of the ground surface by the weather.
Batu Hijau copper-gold mine is located on the Indonesian island of Sumbawa in the province of West Nusa Tenggara, 1,530km east of Jakarta. The Contract of Work for the project is held by PT Newmont Nusa Tenggara (PTNNT), a company owned by Newmont Indonesia (US, 35.44%); Nusa Tenggara Mining Corporation (Japan, 27.56%), PT Pukuafu Indah (Indonesia, 20%) and PT Multi Daerah Bersaing (Indonesia, 17%). Newmont is the project operator.
Construction of the mine and its associated infrastructure was completed in 1999, after PTNNT had spent ten years exploring the resource, with commercial production beginning in 2000. The operation continues to be one of Newmont's lowest cost assets. In 2005, copper sales fell 16.2% to 259,780t (2004= 310,000t) at an applicable cost of $0.53/lb and an average realised price before TRCs of $1.45/lb. However, consolidated gold sales rose to 720,500oz at applicable costs of $152/oz, as compared with 715,000oz in 2004.
Power for the project is supplied by a 120MW coal-fired plant supported by nine diesel generators.
GEOLOGY AND RESOURCES
Bata Hijau is a major gold-rich porphyry copper deposit typical of the islands of southeast Asia. These gold-rich porphyries are overwhelmingly hosted by composite stocks of diorite to quartz-diorite and, to a much lesser degree, more felsic compositions such as tonalite and monzogranite. The deposits tend to be characterised by a strong correlation between the distribution of copper sulphides (chalcopyrite and bornite) and gold as the native metal in addition to having a notably higher magnetite content. Gold typically occurs as minute (<10-15 micron) inclusions in the copper sulphides.
As of the end of 2008, Batu Hijau had an ore reserve containing 968mt of ore at 0.41% Cu and 0.29g/t Au. At current production rates, mining should continue until 2027.
MINING AND MILLING
Batu Hijau is an open-pit mine. Ore is transported to the primary crushers using P&H 4100 electric mining shovels and a fleet of 220t-capacity Caterpillar 793C mechanical-drive haul trucks. The mine typically handles around 600,000t/d of ore and waste, the ore grading an average 0.49% copper and 0.39g/t gold.
"During 2009, Batu Hijau shipped 778kt of copper concentrate containing 504 Mlbs of copper and 557Koz of gold."
Following primary crushing, the ore is transported to the concentrator by an overland conveyor, 1.8m wide and 6.8km long. The concentrator circuit consists of two-train SAG and ball mills, followed by primary and scavenger flotation cells, vertical regrind mills and cleaning flotation cells to produce a copper-gold concentrate grading 32% copper and 19.9g/t gold.
Counter-current decantation thickeners are used to dewater the concentrate to a slurry, which is pipelined 17.6km from the plant to the port at Benete. Here it is dewatered further, then stocked in an 80,000t-capacity storage area prior to shipment by sea.
PRODUCTION
During 2009, Batu Hijau shipped 778kt of copper concentrate containing 504Mlbs of copper and 557Koz of gold.
TAILINGS DEPOSITION
The tailings from the operation flow by gravity from the process plant to the ocean where they are deposited 3km from the coast at a depth of about 108m. From there, the tailings, which are non-toxic and non-hazardous, migrate towards the Java Trench and are ultimately deposited at depths in excess of 4,000m.
ENVIRONMENT
There are considerable environmental challenges at Batu Hijau, including steep terrain and widely dispersed facilities stretching over 40km. The site has a tropical monsoonal climate with high rainfall, and an extended arid season with almost no rainfall. Other environmental considerations include significant seismic activity, with the associated risk of tsunamis, and acid rock drainage, not to mention the existence on site of an endangered species, the yellow-crested cockatoo.
Considerable environmental controls are in place, and Newmont reported the operation improved its 'five-star' environment rating to four stars in 2005.