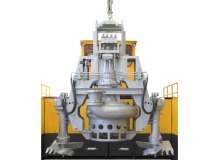 In the world of mining or dredging, you can face a lot of different situations or problems. Dragflow is a specialist in customising solutions to satisfy clients' needs.
Dragflow's hydraulic systems can be easily adapted to every specific request. They include:
Submersible, heavy-duty agitator pumps are hydraulically driven with variable RPM
Main features
All pumps have standard high efficiency agitator to lift settled solids
High abrasion-resistance with high chrome wear parts
Low rotation speed to reduce wear effect
Able to handle up to 70% solids by weight
Easy installation on the boom of hydraulic excavators
Dragflow heavy-duty hydraulic pumps
Hydraulic submersible agitator slurry pump characteristics include:
Pump provided of agitator to stir things up
High abrasion resistance
Low rotation speed
Able to handle up to 70% per weight material density
Pump HY24 can be easily installed and driven by a mini-excavator. No cables and no electric supply required, just plug in the pump and work.
Dragflow hydraulic power pack
Dragflow's hydraulic power pack, which is suitably sized for the pumps and cutters, can also be designed to drive hoist, winches and auxiliary equipments.
The power pack has the following optional features:
Sound-proof canopy (ompliant with European directives)
Remote control, with hydraulic line or wireless
Operator control cabin wwith controls desk, seat, air-conditioning / heater, lockable doors
Container style power pack
All power pack are design, assembled and tested by Dragflow in order to satisfy the most demanding clients.