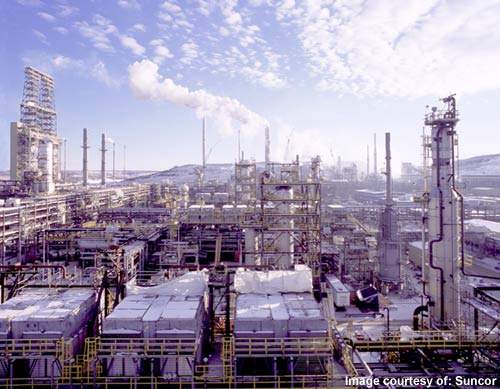 Suncor's Oil Sands plant, located north of Fort McMurray, Alberta. Suncor's vision is to more than double oil sands production to over half a million barrels per day in the next decade.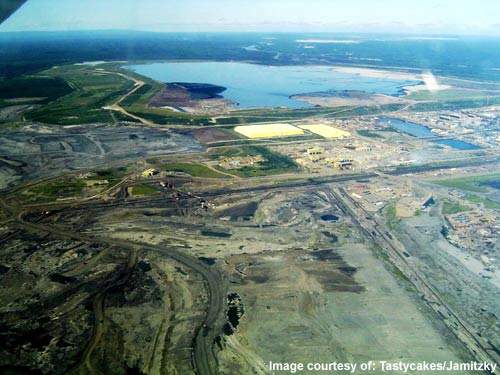 Syncrude Mildred Lake plant. The yellow structures are the bases of pyramids made of sulphur, behind which is the tailings pond.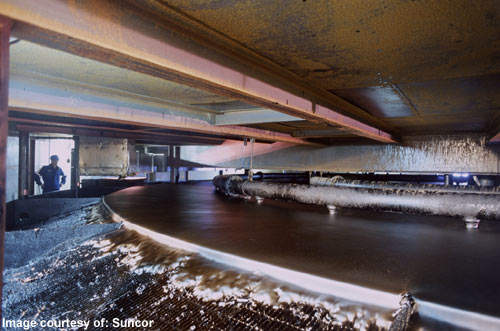 Extraction separation cell. Suncor's primary extraction plants separate raw bitumen from the sand in giant separation cells.
Truck and shovel mining at Albian Sands.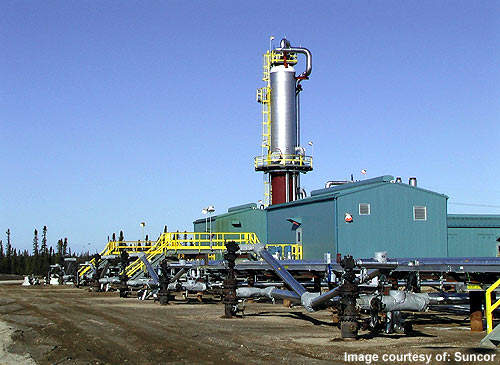 Firebag SAGD well pad. The steam assisted gravity drainage technology uses underground wells to inject steam into the oil sands deposits and collect the bitumen released by the heat.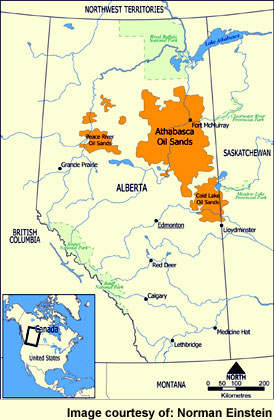 Map showing the extent of the Athabasca Oil Sands.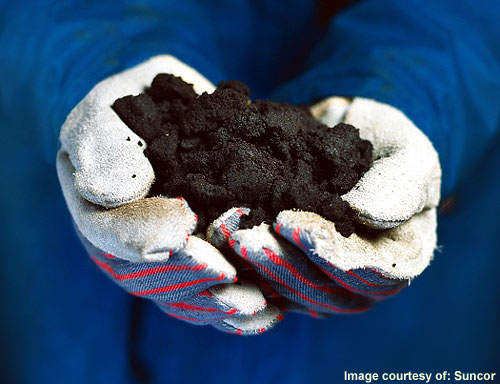 Oil sand bitumen is a mixture of sand, water and clay.
Located around Fort McMurray in the north of Alberta, Canada, the Athabasca Oil Sands – named after the river that cuts through the heart of the deposit – is the largest of province's three oil sands resources.
There are a number of companies involved in exploiting the deposit, though three major operations dominate the field. Great Canadian Oil Sands (now Suncor) began the world's first oil sands mine, followed in 1978 by Syncrude, with the third – the Shell Canada, Chevron and Western Oil Sands joint venture, joining in 2003.
However, even with a total of around 2,800 oil sands lease agreements in existence with the province covering some 43,800km² – almost 70% of Alberta's possible oil sands areas are still available for exploration and leasing.
Although by 2015, it has been predicted that oil sands production will reach 3 million barrels per day, it has been predicted that the reserves would take around 400 years to deplete.
"Oil sands production is projected to make up about two thirds of Canadian oil production by 2010."
In December 2002, the Oil & Gas Journal reported that, holding 15% of the world's proven crude oil reserves, Canada ranks as number two in the world – after Saudi Arabia – with Alberta's oil sands accounting for the bulk of the country's store. As more projects come onstream, oil sands production is projected to make up about two thirds of Canadian oil production by 2010.
The Canadian Association of Petroleum Producers has predicted that ten years later, while oil production will have reached 4.8 million barrels per day, only around 10% will be conventional crude oil – synthetic crude from the Athabasca deposit making up most of the rest.
Geology and reserves
The oil sands are a mixture of sand, crude bitumen, water and clay. Although the amount of bitumen they may contain can range from one to 20%, they are typically around 10%, with the remainder being 83% silica sand, 4% water and 3% fluvial clay.
The origins of the huge resource are believed to lie in the north-easterly migration of light crude from southern Alberta, driven by the same geological forces that caused the formation of the Rocky Mountains, gradually being transformed into more viscous bitumen over time. The deposits accumulated in incised valleys within Devonian strata, which were subsequently modified by the rising sea levels in the early Cretaceous. The underlying sedimentary geology reflects a continuum of aquatic environments from fluvial through estuarine and finally marine shoreline.
Forming a belt some 40-60m thick, the oil sands sit on the underlying flat limestone, beneath clay and sand, often covered by a surface layer of water-logged peat between one to three metres deep. In around 10% of the Athabasca deposit – an area amounting to some 3,400km² – the relatively shallow overburden of less than 75m makes surface mining possible.
The oil sands proven reserves are 176 billion barrels, consisting of 174 billion barrels of bitumen and 1.6 billion barrels of crude oil, with a total recoverable reserve put at 335 billion barrels (315 and 19.7 billion barrels respectively).
Oil sands mining
Mining methods have changed since the launch of the first large-scale mine, with Great Canadian Oil Sands then using bucket-wheels brought from the coal mining industry. In 1978, when Syncrude opened its operation, the company introduced large draglines and conveyor systems to oil sand exploitation, which have given way to the greater selectivity and cost efficiency offered by truck and shovel mining.
A variety of electric and hydraulic shovels, excavators, haul trucks and dozers are used from most of the major manufacturers including P&H, Terex / O&K, Bucyrus, Caterpillar and Komatsu. In addition, extensive use is made of wireless network communication, GPS and dispatching systems to optimise operations.
However, the recent rises in world oil prices coupled with the fact that around 80% of the oil sands resource is buried too deeply for open-pit mining, have led to the use of in-situ alternatives gaining ground. Use of these extraction techniques on a commercial scale is currently in its early phase, though it may ultimately come to replace open mining as the main means of bitumen production from oil sands.
Of the currently available in situ technologies, steam assisted gravity drainage (SAGD) is probably the best known. Steam is injected into the deposit through drilled holes to heat the oil sand and lower the viscosity of the bitumen, enabling it to migrate towards drilled wells and allowing it to be brought to the surface, leaving the sand behind. Other techniques include cyclic steam stimulation (CSS), vapour extraction (VAPEX) and toe-to-heel-air-injection (THAI) – an approach based on injecting air into the well to ignite it and so stimulate the oil flow.
Bitumen extraction
The first process to extract bitumen from oil sands on a commercial scale, developed in the 1920s by Dr Karl Clark, a scientist involved in hot water extraction, working for the Alberta Research Council. Ever since large-scale mining of the sands began, variations of this approach have been used to separate aerated bitumen from the other constituents of oil sand within gravity settling vessels.
This method requires huge amounts of energy, accounting for around 4% of the Western Canada Sedimentary Basin natural gas production and set to rise to 10% by 2015. The energy gains, however, make it viable. According to the National Energy Board, although some 33m³ of natural gas is needed to produce one barrel of bitumen from in-situ methods compared with 19m for integrated projects, a barrel of oil is equivalent to about 162m³ of gas.
In the long run, when gas reserves are exhausted, bitumen gasification – converting bitumen to synthetic natural gas to generate its own fuel – may become the eventual way ahead.
Upgrading process
Given the nature of bitumen as a complex long-chain hydrocarbon molecule, rich in carbon but poor in hydrogen, it requires upgrading to improve the relative proportions of hydrogen to allow more valuable hydrocarbon products to be made.
This process is composed of four main steps: coking to remove carbon, distillation, catalytic conversion and hydro-treatment to help remove sulphur and nitrogen and add hydrogen.
All three of the large mines have associated bitumen upgraders to convert the bitumen into synthetic crude oil for shipment to refineries, although the Shell joint venture-operated Muskeg River mine uses the Scotford upgrader at Fort Saskatchewan, over 400km to the south. The bitumen produced is diluted with a solvent before being transferred there along a 600mm Corridor Pipeline.
Current and future production
Suncor Energy's Steepbank and Millennium mines produce 263,000bpd and its Firebag SAGD project produces 42,000bpd, while Syncrude's Mildred Lake and Aurora mines produce 360,000bpd. The firebag sulphur plant was completed on time in 2009. The firebag phase III, currently under construction, is expected to contribute 52,500bpd when it goes operational in 2011.
The Muskeg River mine produces 155,000bpd. The capacity of the mining and upgrading facilities is being expanded by another 100,000bpd. Plans are in place to expand the capacity to more than 500,000bpd in the long run.
Shell's Jackpine mine phase I is under construction. The mine will contribute 100,000bpd towards the total production. Phase IB, which will also add 100,000bpd, has been approved. In addition, Shell has received licences for producing 290,000bpd of synthetic crude at the Scotford Upgrader.
The Nexen Long Lake SAGD project became operational in mid-2008. Production is expected to rise to a planned 240,000 by around 2016. Regulatory approvals for the phase II expansion that includes addition of 70,000bpd to upgrading capacity and production of 140,000bpd, has been received.
In 2009, the Horizon mine (CNRL) began operations and produced 110,000bpd. Regulatory approvals are in place for Tranche 2, 3 and 4, which will contribute 6,000-15,000bpd, 10,000-20,000bpd and nearly 105,000bpd respectively.
Deer Creek Energy (renamed Total E&P Joslyn in January 2008) is at the regulatory approval phase to build the Joslyn North Mine Project, which will produce 10,000bpd when operational.
A second mine in the southern section of the Joslyn lease is at the project definition stage. An additional 100,000bpd will be produced by this mine when it becomes operational four years after the Joslyn North Mine starts operations.
The Imperial Oil's Kearl Oil Sands Project is under construction. Its operations will begin in 2012 and produce 100,000bpd. Phases II and III have received regulatory approval. They will contribute 100,000bpd each towards the production.
China's largest oil refiner Sinopec has also begun looking at the potential of Athabasca; its subsidiary, SinoCanada Petroleum, has a 50% interest in the Northern Lights mine.
Total E&P Canada, which owned 50% in the project, withdrew its regulatory application in 2008. The mine is in the process of being integrated with the Canadian portfolio of Total. Sinopec purchased 10% stake in the mine from Total in 2009, which reduced the stake held by the latter to 40%.