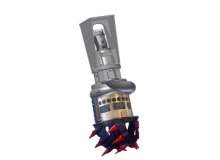 Dragflow pumps can create a self-contained excavating system for hard compacted soil, where a mechanical excavator would otherwise be required.
Excavators mounted on a pump also have the effect to increase average solid production of the dredge system.
Dragflow submersible cutters feature:
Dredge cutterhead
The Dragflow dredge cutterhead is a custom-engineered system. Dragflow's dredging specialists carefully analyse customer requirements and operating conditions to arrive at the design criteria for the cutter profile, size, beta, arm quantity and shape, tooth size, tooth orientation. What is more, the combination of the cutterhead with the agitator avoids any clogging problem at the pump suction.
Hydraulic and electric excavators
Excavators are designed to let the pump works also in presence of very compact material.
Cutters are able to increase solid production by increasing the concentration of the slurries and permit to complete the dredging activities, even in the most difficult situations.
High-pressure water ring
Break materials with the power of water. High-pressure water jet-ring system can be used in presence of compact, very dry or clay materials. For electric pumps it can be used as an alternative to hydraulic cutters. This system consists of a jet-ring frame mounted on the pump filter, a high-pressure centrifugal pump (available in electric and hydraulic versions), a suction hose with water filter and non-returns valve, and a delivery line.Jet-ring is also available for sea and aggressive mining water.
Seaweed cutter-knife
Dredging operation can occur in places where there is seaweed, seagrass and other organic material that has to be cut before it can be pumped. The Dragflow cutter-knife works between the impeller and the strainer to cut the organic material. Together with the agitator the cutter-knife improve pump performances in the most difficult dredging projects.
Weed cutterhead Weed cutterhead is designed to let customer to remove aquatic weeds and thick organic material such as roots. The weed cutterhead has been designed to work in presence of aquatic plants such as floating vegetation, submerged vegetation (milfoil and hydrilla) or rooted vegetation (cattails and reeds).