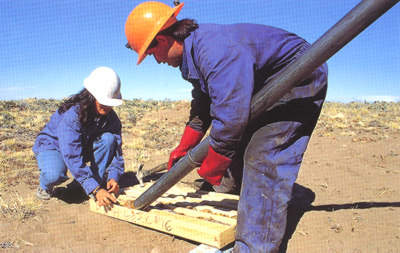 Geologists examining core samples at the Cerro Vanguardia gold project in southern Argentina.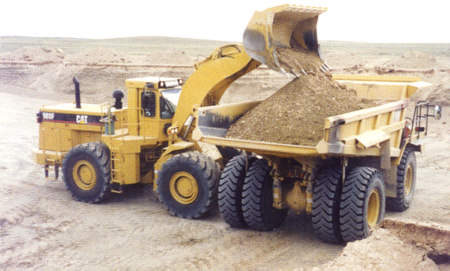 Mining equipment on-site.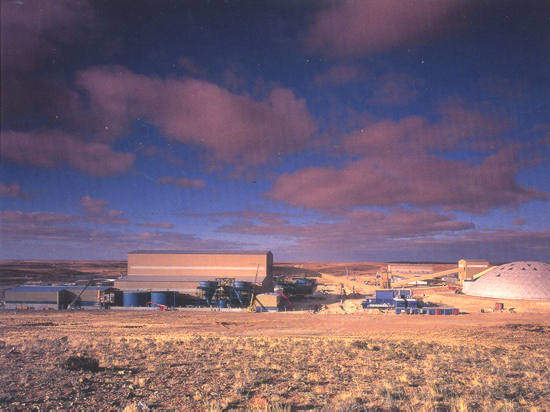 The processing plant at Cerro Vanguardia gold and silver mine in Argentina – designed with significant input from AATS.
Exploring for barytes in Santa Cruz province, Argentina's geological survey identified gold mineralisation at Cerro Vanguardia in 1976. The property lies about 150km north north west of Puerto San Julián. The provincial government assigned the mineral rights to the development agency Fomicruz.
In 1987, oil and gas group Perez Companc formed a 50/50 mineral exploration joint venture with AMSA, Anglo American's South American holding company. Minera Mincorp identified the potential at Cerro Vanguardia and eventually secured the rights to a 514km² concession by tender in July 1991.
"The property lies about 150km north north west of Puerto San Julián."
Initially thwarted by ash from a Chilean volcano, Mincorp started a programme of exploration and metallurgical testwork in 1992. In October 1996, the joint venture exercised its option to exploit the deposit and awarded an EPCM contract to a joint venture of Fluor Daniel Argentina and SADE Ingenieria y Construcciones.
Fomicruz then decided to join the project as a shareholder. Cerro Vanguardia SA was formed in December 1996 with rights to explore and exploit the property for 40 years. AngloGold acquired the 46.25% Anglo group interest in 1998–99 and the equal Perez Companc holding in 2002, then merged with Ashanti Goldfields to form AngloGold Ashanti in April 2004. Fomicruz has a 7.5% carried interest.
Construction work started in 1997 and the first gold was shipped in 1998, close to schedule and budget. The overall investment from exploration to start-up was estimated at US$270m. The plant throughput rate has since risen from 1,800t/d to 2,700t/d. The operation employed 487 directly with a further 459 people working for contractors in 2005. Capital expenditure for the year was US$15m.
Cerro Vanguardia geology
Within a middle jurassic ignimbritic sequence, a fracture system hosts a swarm of epithermal, low-sulphidation veins of the sericite-andularia type. Veins are up to 10m thick, averaging 3.5m and dip from vertically to 60°. Detailed exploration established a resource base of 13Mt contained in 17 separate vein structures. A feasibility study defined 9.1Mt of open-pit mineable ore, grading 9.7g/t gold and 113g/t silver.
Total reserves at end of 2008 attributable were 22.27Mt (including proven and probable in vein mineral resources) grading 2.56g/t gold, equivalent to 57.13t of contained gold. In 2006, Cerro Vanguardia started a four-year exploration programme and started construction of a pilot plant for heap-leaching low-grade ore.
The exploration programme was meant to decide the mine life and define the shallow and high-grade mineral resource. Approximately 300,000oz of gold and eight million ounces of silver were added to the mineral resources. In 2009, work began on an investigational study to estimate the underground mining potential and discover open-pit reserves with a high grade and high stripping ratio. In August 2009, the mine's first underground blast took place.
During 2009 the heap-leach study, investigating the treatment of the low-grade resources at Cerro Vanguardia by a small, heap-leaching operation, was reviewed and updated. The project is expected to increase Cerro Vanguardia's gold production by around 25,000oz every year.
Cerro Vanguardia mining site
Cerro Vanguardia is mining the 17 structures by means of separate open pits, with three to five of these working at any one time in order to achieve an optimal blend for processing. Average stripping ratio over the 15-year mine life should be 15:1. Mining is conventional drill-and-blast, with a load-haul fleet of medium-sized equipment including Caterpillar 988 wheel loaders.
Despite the harsh semi-desert climate, with –20°C winters, Cerro Vanguardia mines around the clock, all year.
Ore processing
Testwork at AMSA's Morro Velho gold mine in Brazil indicated that a conventional cyanidation, carbon-in-leach Merrill Crowe processing route would be suitable for blended Cerro Vanguardia ore. In practice, unanticipated clays in the rin-of-mine ore feed have caused some handling problems.
The first section of the 657,000t/y throughput plant comprises three-stage crushing with product delivered to a homogenisation and reclaiming system designed by Krupp Robins and housed in a 70m diameter watertight and dust-proofed aluminium dome installed by Temcor. Storage pile capacity is 12,000t.
Blended ore is ball milled in closed circuit with cyanidation. The grinding thickener supplies underflow for leaching CIL adsorption-elution, the resultant pregnant solution then being mixed with the silver-rich overflow from the thickener ready for precipitation.
"The operation employed 487 directly with a further 459 people working for contractors in 2005."
The precipitate is smelted to form doré bars with 90% silver and 10% gold. These are flown out for refining. In 2001, a gravity circuit was added to recover free milling gold and silver.
To minimise environmental hazards, Cerro Vanguardia has a cyanide recovery plant that also allows the removal of zinc complexes, while process water is recycled from the tailings dam 1.5km away. The generating plant, fuelled by gas from the General San Martin north-south pipeline via a 44km link, can meet the maximum 9.5MW demand.
Production
The annual production target was originally 6t of gold and 60t of silver. During 2000, some 365,000 milled tonnes yielded 4,101kg of gold at a cash cost of $146/oz. Production fell to 193,000oz in 2002, recovered in 2003, and increased again in 2004. For 2005, AngloGold Ashanti reported its attributable 92.5% of production as 211,000oz, giving a total output of 228,100oz for the year at cash costs of S$171/oz and total production costs of $277/oz. In 2008, production declined 25% to 154,000oz due to frequent plant breakdowns, a decline in tonnage and weak grade recovery.