A J Charnaud
Protective Clothing for Hazardous Materials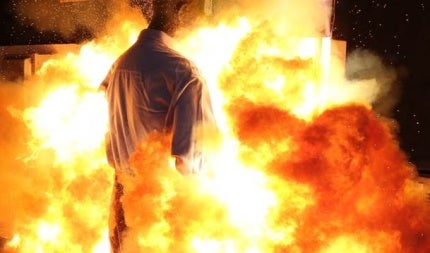 A J Charnaud & Co develops and manufactures protective clothing. The company supplies specialised safety products to various industries dealing with hazards, such as molten metal splash, heat, flames and fire, as well as arc flash in oil and electric applications.
A J Charnaud offers a complete head-to-foot range of certified products supported by advanced professional and technical assistance. The Charnaud Group exports its personal protective clothing and systems worldwide, to shield workers from hazards.
Certified protective clothing
All A J Charnaud products are certified in South Africa, with many products carrying international certification. The company is a permanent member of the South African National Standards Committee on electric arc flash.
Molten metal protection garments for workers
ALu-SAFE® is one of A J Charnaud's flagship brands as well as an internationally certified safety product. It protects workers from molten aluminium and cryolite (reduction cell flux) splash in primary aluminium smelters. In addition to its unique molten metal shedding ability, ALu-SAFE is naturally flame-resistant throughout its whole lifecycle. ALu-SAFE fabrics meet the requirements for EN ISO 11612:2008 and the International Aluminium Institute's procedure B standard for personal protective clothing.
Electric arc flash protection gear
When an electrical current passes through air between ungrounded and grounded conductors, temperatures can reach up to 20,000°C in a fraction of a second, with tremendous pressure blast and shrapnel hurling at high velocity.
A J Charnaud's Survive-ARC® consists of a broad range of arc flash protective clothing designed to protect electrical workers against the hazards of an electric arc flash. The newest addition to the Survive-ARC range of products is the high-visibility knitted work wear garment. These specialised high-visibility protective work garments are designed for the electrical, manufacturing, petro chemical, oil and gas and railway industries.
Head-to-foot personal protective clothing
Although A J Charnaud mainly manufactures personal protective clothing, the company also supplies complete head-to-foot solution for safety. This is achieved by obtaining the essential certified accessories and personal protective equipment to complement the company's range of safety clothing. A J Charnaud's slogan, 'your last line of defence' summarises its commitment to total safety.
A long-standing commitment to ensuring the safety of customers has led A J Charnaud to the development of ground-breaking technology in personal protective clothing, resulting in a wide assortment of protective product ranges, such as:
ALu-SAFE®: a range of specialised protective garments for the aluminium industry
Survive-ARC®: arc flash protective clothing designed for the electrical worker
Aluminised®: aluminised garments that protect against radiant heat and molten metal splash
Metal-Safe®: garments are made from the next generation of personal protective fabrics that protect against hot metal
Charnaud Smelter Boot®: ultra high-resistance towards temperature, electrical current, acid and punctures
Aqua-TECH®: industrial rainwear made from coated yellow PVC used for light-to-heavy duty industrial use
Fire-TECH®: full range of products for structural, veld and industrial fire fighting
Fire-SAFE®: a full range of flame resistant work wear designed for a variety of applications in various industries
Wool-SAFE®: garments made from treated pure new wool to protect against flames and heat
Zero-TECH®: designed to protect and enhance worker's performance in cold conditions
Shaft-TECH®: designed to withstand various fuels in a high abrasion work area typically found within the mining industry
Protective industrial clothing and equipment
The company was founded in 1975 by Fiona and Andrew Charnaud to produce industrial rainwear for the South African market. Since then, A J Charnaud has expanded its range of products significantly and today supplies advanced personal protective clothing and equipment to various sectors of the worldwide economy.
Today, the company aims to continue to uphold the spirit of innovation and distinction in personal protective clothing and equipment.
AJ Charnaud & Co (Pty) Ltd