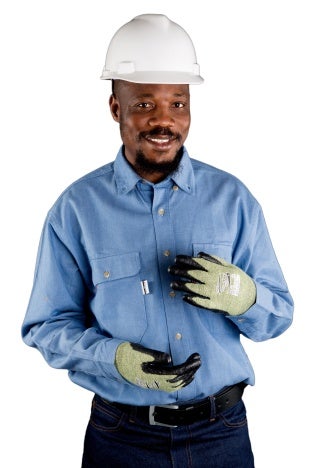 A J Charnaud & Co (Pty) Ltd is a leading global manufacturer of personal protective clothing for protection against heat, electric arc flash, flames, fire and molten metal splash, and has introduced a new and advanced electric safety glove, by Ansell.
The newest innovation in the Charnaud global family is the PowerFlex® electric safety glove. The unique safety glove offers a new-to-market flame-resistant solution for hand protection.
It is the first glove that is flame-resistant and anti-static, with electric arc flash and cut protection, all in one comfortable, ergonomic product. The glove meets EN 407 level four flammability resistance, Arc Flash Hazard category two rating and EN 388 cut protection level five.
The flame-resistance of the glove is inherent in all components, and stays effective even after multiple washes. The thin and lightweight 13g knitted glove increases productivity by allowing the user to manipulate small objects without removing their gloves.
The PowerFlex glove is ideal to use for equipment assembly, machinery maintenance, electrical work, pipe installation, heavy-duty metal handling and various other applications. The glove can be used in the utilities, construction, oil and gas, mining, petrochemical and manufacturing industries.
---
Image: A J Charnaud releases PowerFlex electric safety glove by Ansell. Photo: courtesy of A J Charnaud.