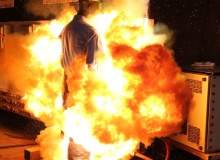 When an electrical current passes through air between ungrounded and grounded conductors, the temperatures can reach up to 20,000°C in a fraction of a second, with tremendous pressure blast and shrapnel hurling at high velocity.
In 2005 a full range of personal protective clothing and accessories to protect workers against the thermal hazards of electric arc flash was launched under the Survive-ARC® brand name. The electric arc flash safety products range carries full American, European and South African safety standards certification and is exported globally.
A J Charnaud's Survive-ARC comprises a comprehensive range of arc flash protective clothing, including switching garments, casual work wear garments and accessories. Almost all the personal protective clothing products are manufactured in South Africa, with some complementary accessories being imported from a variety of global strategic partners.
One such a product is the Charnaud E20300® innovative safety boot. The unique full leather safety boot is water, heat and electric shock resistant. The metal-free work boots have a breathable antibacterial treated lining and ergonomic design for continuous comfort, with a heat-resistant sole system. The sole construction of the safety work boot can withstand 300°C and is 20,000V electrical shock resistant.