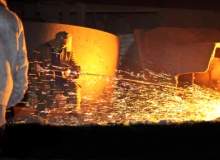 In foundries and other areas where solid metals are heated to a molten state, body burns are a frequent injury among workers. Molten metal splashed onto a worker will stick to exposed skin and some fabrics, causing them to instantly ignite, leading to severe burns or death.
The causes of a molten metal splash incident can range from human error to equipment failure and even relatively small burns can mean long hospital stays that are demoralising and costly to the worker and employer.
A J Charnaud places the user's safety first with an innovative range of safety clothing and accessories that protect against molten metal splash. The products are internationally certified and have set the benchmark for personal protective clothing in the global aluminium industry.
A J Charnaud molten metal products form part of a complete head-to-foot package of personal protective clothing products to protect users from radiant heat, molten metal splash, flames and flash fires, including:
ALu-SAFE®: range of specialised protective garments against molten aluminium and cryolite (reduction cell flux) splash in primary aluminium smelters and downstream operations
Aluminised®: aluminised garments that protect against radiant heat and molten metal splash
Charnaud Smelter Boot®: specialised furnace boot with ultra-high resistance towards temperature, electrical current, acid and punctures
Metal-Safe®: protection against the thermal effects associated with hot metal splash, welding and flames
Charnaud Thermal Sock®: flame-resistant daily work wear socks for industrial workers
Wool-Safe®: new wool garments to protect against flames, heat and molten metal splash
In addition to the molten metal shedding ability, products are inherently flame resistant for the life of the garments.