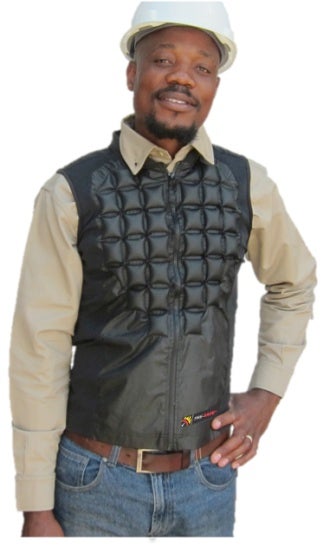 A J Charnaud & Co (Pty) Ltd, a leading global manufacturer of personal protective clothing for protection against heat, electric arc flash, flames, fire and molten metal splash, has introduced a new, advanced Cooling Vest, which is available in the Middle East and Africa.
The newest innovation in the Charnaud global family is the FireSafe® Cool Vest. The unique cooling vest offers a new-to-market flame-resistant solution for protection against heat stress.
The Cool Vest garments are multifunctional and can be used for environments where control of body core temperature is essential to work safely, comfortably and productively. These garments protect and cool the body in an optimal way using no electrical appliances, only water.
The Cool Vest cools its wearer down to 7°C below the ambient temperature for 7 hours to 72 hours, subject to ambient temperature, humidity and climatic conditions. The vest material is flame-retardant and can be comfortably worn next to skin or over light-weight fabrics. The FireSafe Cool Vest becomes lighter as the water evaporates, making it practical to work with.
---
Image: A J Charnaud introduces new FireSafe® Cool Vest. Photo: courtesy of A J Charnaud.