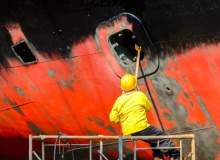 AJ Charnaud has designed a range of industrial work wear to enhance a worker's performance in cold or wet conditions.
The Aqua-TECH® range of industrial rainwear is made up of double PVC-coated polyester woven fabrics that are very durable with a high resistance to tearing and abrasion. The range is available in different weights from medium to extra heavy-duty industrial use.
The PVC material is resistant to many hazards, including light chemical splash, oil, grease, acids, saltwater, sunlight and mildew. All the seams are stitched and welded to ensure that they are completely waterproof and long lasting. The PVC rain gear won't peel, crack or become sticky. It stays flexible down to -25°C and is machine washable.
Aqua-TECH is very much a 'green' fabric as only primary plasticisers are used. The fabrics are anti-bacterial, non-toxic and contains a pigmentation system that is not be affected by UV light. The outer surface is non-sticking, matt finish, free from blemishes, even-coloured and of a uniform thickness.
Zero-TECH® work wear garments are designed to protect and enhance worker's performance in cold conditions. The garments are made with quilted warm liners for protection in cold conditions, and are available in flame retardant, non-flame retardant and even waterproof options.
The flame retardant outer layer of the flame retardant freezer garments conforms to SANS 1423, Part 1:1984 and SABS 137-4:2009. All seams are stitched. Garments have exceptional tear and abrasion strength and flexibility in cold weather.