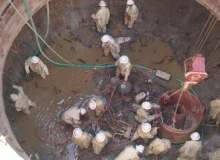 A J Charnaud is regarded as a leading supplier of personal protective clothing and accessories in the mining industry. The company supplies mining-related products that can assist in preventing injuries from dangers such as shaft sinking, heat/thermal stress, electric hazards and molten metal splash.
Fire-SAFE® Cool Vest, Shaft-TECH®, Metal-Safe®, Zero-TECH®, Aqua-TECH® and Charnaud Thermal Sock® all form part of a complete head-to-foot package of personal protective clothing products to protect against mining-related injuries.
Shaft-TECH was designed to withstand various fuels in a high-abrasion work area typically found within the mining industry. This durable Shaft-TECH Shaft Sinker Suit has been a part of the South African mining scene for more than 30 years. The garment displays characteristics that set it apart from its competition, including:
Excellent flexibility under hot and cold conditions
All seams are stitched and high-frequency welded to ensure waterproof
Exceptional tear and abrasion strength
Excellent oil and chemical resistance
Contains special polymeric plasticisers to resist extraction by oil, fat and greases
The Fire-SAFE Cool Vest is another innovative multifunctional garment that can be used for environments where control of body core temperature is essential to work safely, comfortably and productively. These garments protect and cool the body in an optimal way using no electrical appliances, only water.