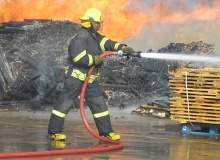 When facing a fire hazard there are numerous risks of injury, including the fire itself, structures breaking, unstable floors, falling objects etc. Apart from the essential fire-resistance of firefighting clothing, the weight, mobility and manoeuvrability can also be the difference between life and death.
A J Charnaud produces firefighter's protective clothing made from the best lightweight materials that are fire resistant for the life of the garment. The garments are manufactured and designed for extra mobility and long-lasting safety.
A J Charnaud offers a full range of flame resistant work wear garments for a variety of applications like petroleum, chemical and petro-chemical industries, gas and explosives manufacturing plants, smelters, furnaces, welding operations to name a few.
Fire-SAFE® and Fire-TECH® safety garments are utilised for a variety of applications from proximity, wildland, structural and veld firefighting to welding, electric arc flash, flash fires, rescue work and military applications.
When facing flames, fire and radiant heat at a close proximity, the worker requires ultra-protective clothing that guards against extreme radiant heat, flames, metals and hot liquid splash. A J Charnaud's Aluminised® range of garments for proximity wear consists of jackets, trousers, coats, aprons, hoods, gloves, mitts, boots, socks and spats.