Increased productivity, reduced energy consumption and better safety in production are the main challenges faced by mining companies. As a leading mine hoist system supplier, ABB has more than 70 years' experience, and has delivered more than 600 new mine hoists and undertaken the modernization of hundreds of existing hoisting plants worldwide. As a global organization, ABB is represented in around 100 countries including all the major mining countries worldwide.
ABB's unique position as a supplier of complete mine hoists, both mechanical and electrical, enables the company to optimize total solutions for the customers. In combination with close customer relations, ABB has made a number of technological breakthroughs for mine hoist systems, including the introduction of hydraulic disc brakes, analogue and digital thyristor converters, digital control and monitoring systems.
Complete mine hoist systems
ABB has more than 70 years' experience of producing advanced mine hoists and offers a complete range of hoists including single drum, double drum and friction hoists for use as auxiliary, skip or cage hoists and for shaft sinking. Main features in ABB's deliveries:
Mechanical equipment with high-performance disc brakes
Shaft equipment such as skips, ropes with attachments and measuring pockets
Modern AC or DC drive systems
Advanced digital control and monitoring
Customer training
Depending on the specific customer needs, the scope of supply is supplemented with power supply, remote diagnostics etc. providing a complete hoisting plant.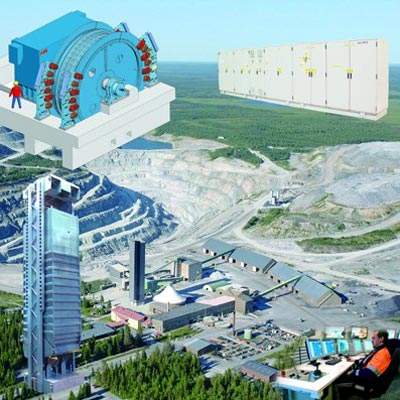 ABB offers a complete range of hoist systems, including both mechanical and electrical parts.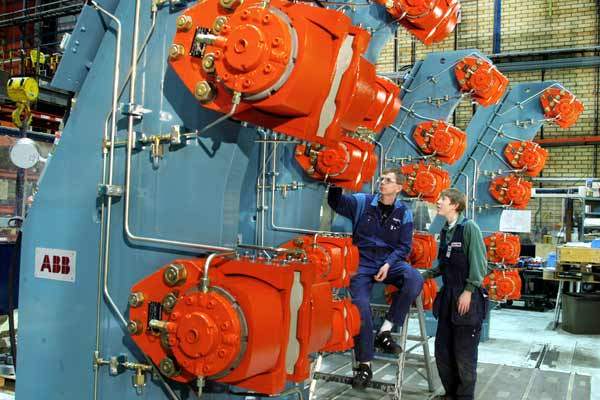 ABB's hoist disc brake system features improved safety and availability, controlled braking at emergency stop, brake system status and operation monitoring information, as well as reduced maintenance.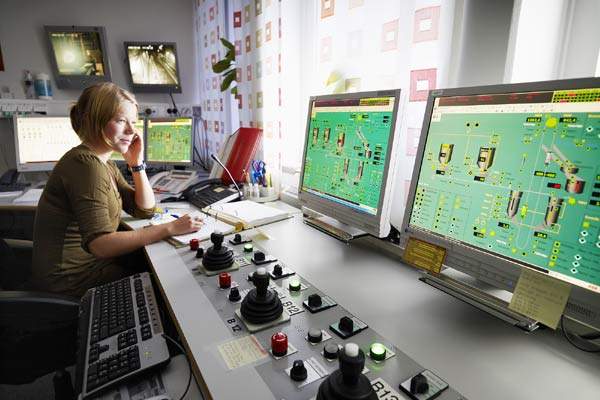 The central control room at LKAB, Kiruna, from where the whole hoisting plant of the world's largest underground mine is controlled.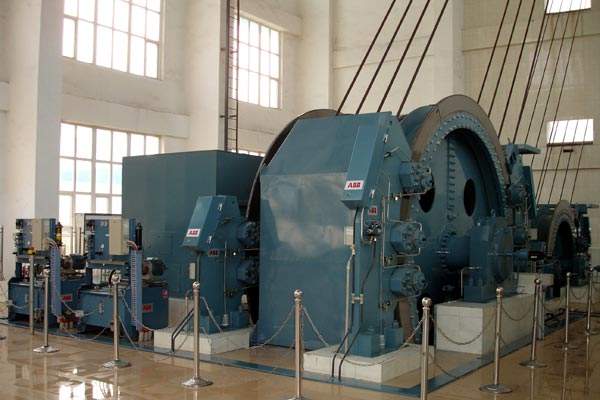 ABB's multi-rope friction hoist at Tunliu Mine in China.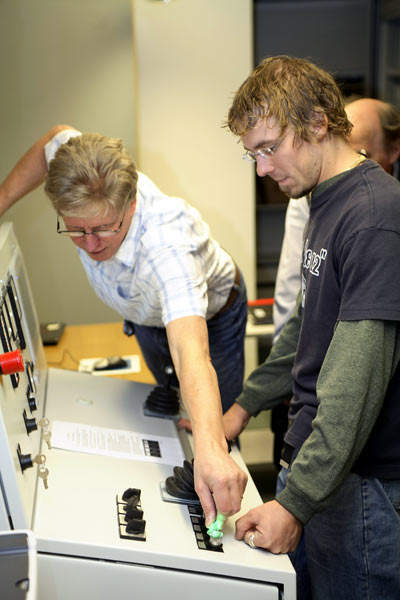 Training programs are available at the Center of Excellence or on-site using the customer's own equipment.
Hoist brake system
With ABB's "controlled retardation" the braking force is controlled to obtain the same retardation in all operating situations (direction, speed, load and friction). This system has been installed in more than 250 hoisting plants and is used for both drum and friction hoists. Controlled braking works in the following two ways:
Braking during abnormal operation with proportional control to give a soft stop
Braking at an emergency stop with control giving a constant predefined retardation independent of the braking conditions
The system includes battery backup to provide correct operation during a power failure as well as monitoring of tachometers, supply voltages and hydraulic pressure. In the event of a battery failure, the hoist will stop within a safe retardation rate.
Control and monitoring system
Installation of a new control system or the upgrade of an existing one leads to increased safety, increased productivity and increased availability of the hoisting plant. A modern control system will result in:
Reduced hoisting cycle time and increased production
Improved operator functionality
Improved reporting for production and maintenance
Advanced diagnostics for fault tracing
Possibility for remote diagnostics
Less maintenance
The control system solutions are based on ABB's industrial IT system 800xA, adapted to the specific needs and requirements of hoisting applications. ABB's AHM 800 Advant hoist monitor is the complete solution for safety and monitoring of all mine hoist types, which provides very accurate monitoring of all vital hoist parameters such as speed, acceleration, retardation and position of the hoist conveyances.
Hoist drive systems
ABB's mine hoists are powered by reliable AC or DC motor drive systems, operating either directly or through a gearbox or flexible coupling. In order to minimize stress in the ropes the drive systems are designed to give smooth changes in motor torque and speed.
With no flicker, no reactive power consumption and low voltage drops, ABB's drive systems are able to work on weak networks. Today, ABB has largest installed base in the world with direct torque control (DTC) technology, which gives fast and accurate torque control.
After sales service and support
ABB offers customers after sales service and support by:
Offering quality assured spare parts and components with short delivery times
Upgrading existing hoist systems
Offering long term support by entering into service agreements
Offering tailor-made training program either at ABB's facilities or on site