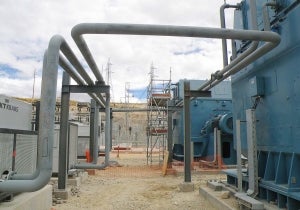 ABB, the leading power and automation technology group, recently completed commissioning of two synchronous condensers and harmonic filters for Xstrata Copper's Antapaccay project in the Yauri district of Espinar Province, southern Peru.
The open-pit mine and processing operation are located approximately ten kilometers from Xstrata's Tintaya mine at 4,100 meters above sea level. The plant has an estimated process capacity of 70,000 tonnes per day for the first half of 2013 and is projected to produce an initial 160,000 tonnes of copper in concentrate per year including significant gold and silver by-products.
ABB's scope of supply included harmonic filters and controller, two brushless synchronous condenser systems comprised of 20-megavolt ampere synchronous motors, distribution transformers, frequency converters, excitation and protection panels as well as chiller systems.
The project is located in a remote area and is connected by a long power transmission line. ABB's synchronous condensers will ensure accurate and dynamic power factor compensation for safe and reliable mine operation at this remote location. By integrating synchronous condensers and harmonic filters the harmonics are mitigated and short circuit levels improved, thus optimizing Antapaccay's productivity and energy efficiency.
ABB's expertise in the integration of harmonic filter systems with synchronous condensers, strong local service presence and an excellent reputation in the South American market, were important factors for winning the contract with Xstrata. Bechtel, Xstrata's EPCM contractor, managed the overall project.
ABB has also supplied two identical synchronous condensers for Xstrata Copper's Las Bambas project in Peru, with commissioning scheduled for the fourth quarter of 2014.
ABB (www.abb.com) is a leader in power and automation technologies that enable utility and industry customers to improve their performance while lowering environmental impact. The ABB Group of companies operates in around 100 countries and employs about 145,000 people.