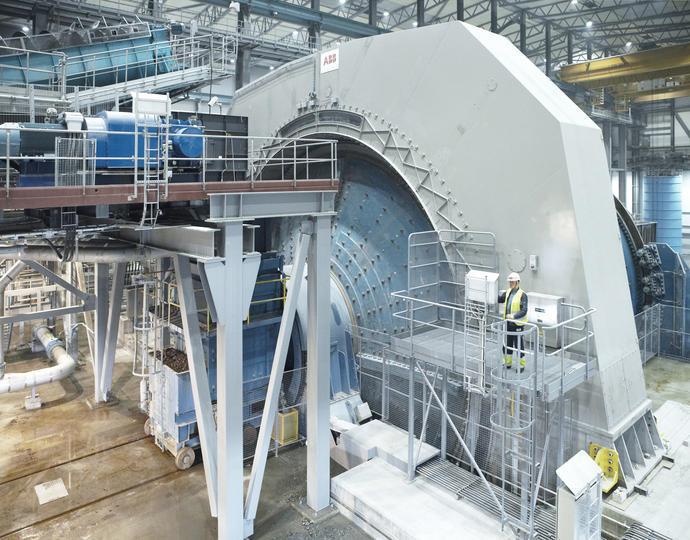 Leading power and automation technology group ABB has won an order from Boliden for a three year long-term service agreement (LTSA) for Bolinden's copper mine in Aitik, Sweden.
The contract was awarded in the fourth quarter of 2013. Located outside of Gällivare in the far north of the country, Aitik is the largest copper mine in Sweden, and one of the most efficient open pit copper mines in the world.
The ABB lifecycle management concept is a business approach that goes beyond short-term success and aims at long-term value creation for the customer.
It will help Boliden to identify risks, make qualified decisions and manage available data with the aim to increase availability of ABB equipment. The agreement covers lifecycle management services, remote diagnostic services and scheduled maintenance for two gearless mill drives (GMD).
In addition to this service scope, ABB will support Boliden by consulting on on-going technology upgrades to the installed GMD and ring-geared mill drive (RMD) systems. With this advanced long-term service approach, ABB will help Boliden to extend equipment lifetime, minimise unexpected shutdowns and increase availability of the grinding systems.
Boliden Aitik and ABB have a long-standing business relationship. ABB not only delivered the GMD and RMD systems, but also several drive systems, motors, transformers and the extended process control System 800xA in 2006.
"Considered one of our preferred suppliers, ABB is now a long-term strategic service partner. The ABB team are reliable and highly proactive and we trust the service team to support us to increase system availability in the grinding process. The concept of one dedicated lifecycle manager facilitates our maintenance and service operations," said Mats Nordmark of Boliden.
The lifecycle management services include a single contact person responsible for all LTSA inquiries, a communication and escalation plan and progress meetings to track open LTSA issues. The agreement also covers ABB's remote diagnostic services, including support line (24hr telephone and email service), troubleshooting (remote emergency support), periodic maintenance reports and condition monitoring of the GMDs.
Designed to support critical complex systems, the remote diagnostic services allow ABB engineers to access and troubleshoot GMD systems from anywhere in the world. They can log on to the system remotely, investigate the problems and deliver recommendations for the next step or resolve problems immediately.
ABB global service manager for mining Remy Lanoue said: "Our LTSA with Boliden will enhance the overall system performance and achieve maintenance excellence, while securing predictability in maintenance costs. Our service team in Sweden and Switzerland will stay focused for the entire three years to provide Boliden with the support they need, anytime."
---
Image: ABB GMD system at Boliden Aitik. Photo: courtesy of ABB.