For mining and aggregate producers around the globe, Volvo Construction Equipment can support your business with increased productivity, more uptime and reduced total cost of ownership. Fully understanding your business needs means we can tailor solutions to help you work smarter, not harder, maximising the profitability of your operation.
With over 50 years' experience behind the company, Volvo Construction Equipment has an in-depth understanding of the mining and aggregates industries. Whatever you need, Volvo can add real value with the right machines and service support package to reduce your cost per tonne.
Mine and quarry site preparation and restoration
Every mine or quarry starts with site preparation, be it topsoil removal or shifting overburden to expose product. This work continues throughout the life of the operation and eventual restoration of the site. Volvo's range of excavators, articulated haulers, wheel loaders and motor graders are perfect for these applications.
In production, our excavators, loaders and haulers are designed to move rock efficiently and reliably. In the yard, Volvo loaders manage the stockpiles and load out finished material exceptionally fast.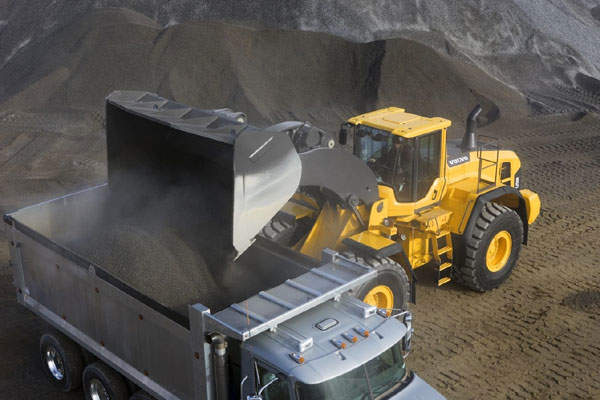 The Volvo L250G, the industry's first 35t wheel loader, has the power to dig in the pit or produce in the yard and is sized to load many on-highway trucks in just two even passes.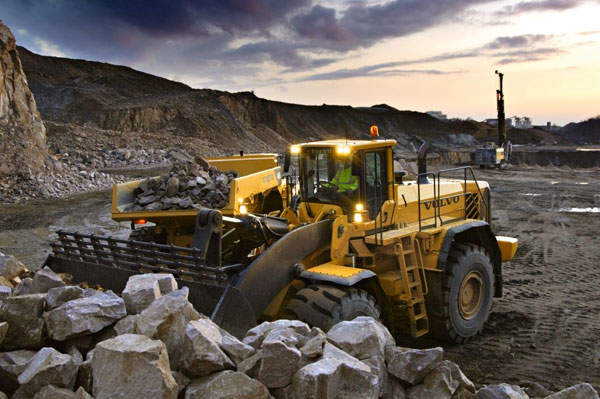 Like a factory on wheels; smooth, fast and stable, the durable L350F wheel loader is designed for the toughest conditions and continuously demonstrates industry-leading fuel efficiency.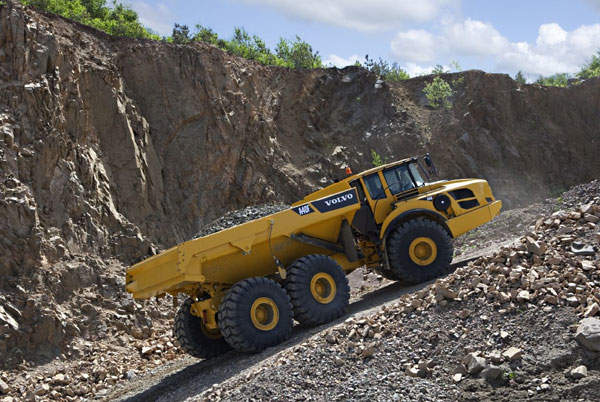 Volvo articulated haulers are in a class of their own, in a production setting or variable site conditions. A35F and A40F models are also available with Volvo's active, full suspension system for even higher production and operator control.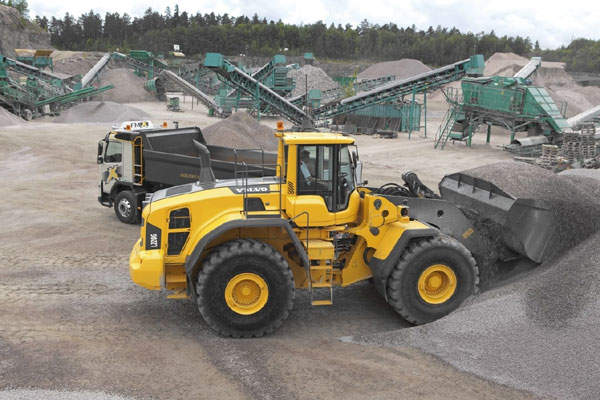 In load and carry applications or intense truck loading, Volvo's unique OptiShift technology (optional on L150F - L220F and standard on L150G - L250G models) enables faster cycling and up to 15% lower fuel consumption.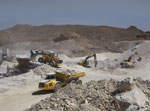 Volvo's market leading articulated haulers, combined with its wheel loaders and excavators, provides the total solution in tough quarry and mining applications.
Crawlers, excavators, haulers and loaders
The Volvo product range can support you at every stage of your operation with crawler and wheeled excavators, articulated haulers, wheel loaders, motor graders and a range of compact equipment, including backhoe loaders, wheeled and tracked skid steer loaders.
These products are designed to exceed high industry demand for productivity, reliability and uptime. When combined, all of these elements lead to a lower total cost of ownership.
Fuel-efficient wheel loaders
Load up in less time with Volvo's L350F, or the latest L250G. The L250G is in a class of its own as the industry's first 35t wheel loader, ready to work in the pit as well as the yard. With this advanced machinery you can increase your productivity by moving more each hour. These robust machines are purpose-built with reliability, durability and safety at the centre of their design.
Reliable, high-performance excavators
Productivity and reliability is built in to all of our excavators, right up to the 70t EC700C. Volvo excavators are engineered with well-matched Volvo components for increased digging performance and faster cycle times, allowing you to shift more tonnes per hour using less fuel. It all adds up to more with Volvo.
Articulated haulers
Our vehicles employ automatic traction control (ATC) to select the optimal drive combination to ensure high traction and mobility in any conditions. Volvo's unique 6×4 mode lowers fuel consumption and tire wear on decent roads, while the 6×6 mode provides maximum traction when needed.
The Volvo A35FFS and A40FFS 'full suspension' models feature a unique, intelligent suspension system that further increases productivity and operator comfort.
Fleet management system
The Volvo CareTrack telematics system can be integrated with your machine's internal diagnostic system. In addition to monitoring machine location, you can remotely track machine usage, fuel consumption, and maximise uptime through preventive maintenance scheduling.
This system is being rolled out in many markets. Contact your local Volvo dealer for details of availability in your region.
Buckets, ground engaging tools and other attachments
Volvo offers you a comprehensive range of buckets and ground engaging tools made from high-strength tensile steel for extra longevity in severe applications. Designed to optimise your machine performance, the right attachment is available for the job.
Support services for mining and quarry operations
Volvo offers a host of services to help you get the most out of your business. These include customer support agreements (service and maintenance support to maximize uptime), Volvo used equipment, Volvo financial services and Volvo remanufactured components, all of which aim to meet your economic needs.
Construction equipment and on-road trucks
With Volvo, you not only benefit from more than 175 years of construction expertise, you'll also have the whole of the Volvo Group behind you. The Volvo Truck Corporation includes Volvo Trucks, Mack Trucks, Renault Trucks, UD Trucks and Volvo powertrain solutions around the world.