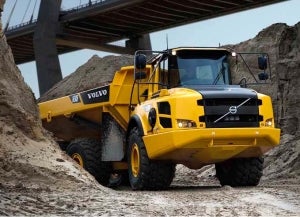 The F-Series articulated haulers set high standards in the market that Volvo created and continues to lead.
The F-Series articulated haulers from Volvo Construction Equipment feature a package of features that boost functionality, design, and maintenance. The F-Series ranges from the 24-tonne A25F to the 39-tonne A40F, each model maneuvering, traveling and dumping in the safest, most efficient way.
Having developed the articulated hauler in the 1960s, Volvo is still the runaway market leader. The articulated steering system is central, giving operators outstanding control of the machine through both its high steering force in tough off-road conditions and its accurate, safe operation at high hauling speeds.
Heavy-duty for heavy duties
Durability and strength are the hallmarks of Volvo haulers. Heavy-duty front and rear frames have been designed for tough off-road operation and long service life. The load body is also heavy-duty, made from HB400 steel, and its design, high dump clearance and tipping angle promote good material ejection. A powerful, load-sensing 'closed center' hydraulic system and double-acting, single-stage hoist cylinders raise the body even on steep downhill gradients.
The F-Series haulers meet the requirements of Stage IIIB and Tier 4i emissions legislation. Electronically controlled, six-cylinder turbo-charged Volvo V-ACT diesel engines feature high torque at low engine speeds, resulting in good fuel efficiency, high performance, quicker engine response and less wear for long service life. They are designed to exactly match the Volvo drive train, ensuring the best use of power and torque, even in tough working conditions.
Controlling traction
The drivetrain features Automatic Traction Control (ATC) system, which prevents operators leaving haulers permanently set in all-wheel drive mode, even when not needed. This leads to higher than necessary fuel consumption, tire and mechanical wear. ATC automatically disengages the rear axle when not needed, eliminating tire skid when cornering and reducing tire wear. However, when ATC system does sense slippage, the longitudinal differential lock and the 6X6 clutch are engaged together, for optimum traction.
A three-point bogie beam design allows the rear wheels to move independently, ensuring good ground contact, traction and stability. The high positioned rotating hitch ensures high ground clearance for excellent off-road mobility and improves stability when hauling at high speeds. On the A25F and A30F models, hauling speeds are increased thanks to soft, progressive gas-hydraulic front suspension, which minimizes vibrations to the operator, reducing fatigue and enhancing productivity. The unique full suspension (FS) version of the F-Series is fitted with a fully hydraulic front and rear suspension and maximizes hauling speeds of both loaded and unloaded machines.
The A25F and A30F are fitted with fully hydraulic brakes and dry discs on all wheels, while the bigger A35F and A40F are fitted with oil-cooled wet discs. Additionally, all machines feature retarders, which help control speed and reduce service brake use and minimize wear.
A nice place to work
As with all Volvo CE equipment, the F-Series is fitted with a world-class ROPS/FOPS protected Care Cab. Good all round visibility is assisted by a centrally positioned operator station, sloping hood, large rearview mirrors, a wide front windshield and a full-length glass door. A spacious, low-noise, climate-controlled interior and controls close at hand combine to make the F-Series a low-stress environment. The F-Series is fitted as standard with CareTrack, Volvo's telematics system that enables remote monitoring of a wide range of machine functions to optimize customer operations.
Maintenance is assisted by a swing-down front grille with integrated steps, which acts as a service platform. Additionally, the hood tips 90 degrees, giving easy access to the engine compartment. All grease points and remote-mounted drains are accessible from ground level or non-slip platforms. No daily or weekly greasing is needed.