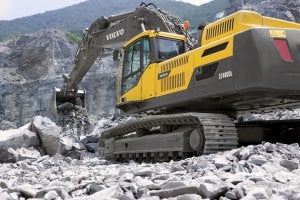 Featuring Volvo's latest D13 engine and enhanced hydraulics, the new EC380D and EC480D excavators not only offer greater digging force and faster cycle times, they perform relentlessly and boast fuel efficiency improvements of up to 14%.
Helping to sustain optimum power and output, the new EC380D and EC480D excavators from Volvo Construction Equipment are heavy-duty machines that weigh and 38t -39.7t and 48.6t -51.2t, respectively. These powerful and reliable machines excel in heavy digging and lifting duties, offering superior cycle times and greater fuel efficiency. In fact, fuel efficiency lies at the heart of these machines, offering improvements over the models they replace by a substantial 7%-9%.
Both machines are fitted with Volvo's latest 13-litre six-cylinder diesel engines, delivering exceptional performance and fuel efficiency, attributes that are maximised when combined with new hydraulics and well-matched components. The engine uses precise, high-pressure fuel injectors, turbo charging and intercooling, plus advanced electronics to optimise engine performance.
Maximum net power is 208kW (283hp) for the EC380D and 256kW (348hp) for the EC480D. Fuel efficiency is improved by up to 9%, and a further 5% improvement is available when the operator selects ECO mode, Volvo's sophisticated electronic pump control technology. An auto-idling system reduces engine speed to idle when the controls are inactive, lowering operating cost and fuel consumption.
A spine of reinforced steel
Robust and heavily reinforced to withstand working with high-impact materials or demanding terrain, the X-shaped undercarriage features a durable fabricated idler, a large diameter roller and a thicker tooth sprocket and track link for increased component life.
Available in various boom/arm configurations, the boom is made from high-tensile steel and robotically welded for severe use durability, while wear strips welded to the arm also give added protection. The optional boom float frees up hydraulic flow by lowering using gravity only, freeing up hydraulic flow for other duties.
When only a single function is being used, the hydraulics system combines the flow of both pumps for quick cycle times and greater productivity. It can also prioritise flow according to the work being done, for example to the boom for faster raising when loading or in deep excavations, or to the arm during leveling duties.
Life from a different perspective
The operator can select the work mode, settings and attachment requirements all from inside the cab. Four working modes (idle, fine, general and heavy) allow operators to quickly select the best mode for the job at hand. Up to 18 different attachments can also be managed, tailoring hydraulic flow and (as an option) pressure according to the specific requirements of the tool being used.
Using the latest version of Volvo's ROPS-protected care cab, operators sit in a roomy, low-fatigue, air conditioned working environment, with clear visibility and easy-to-handle controls. A large, clear colour monitor gives operators all the important machine information, while a service mode allows technicians to perform diagnostic checks.
Both the EC380D and EC480D feature easy maintenance as standard. Accessed via wide opening compartment doors, grouped, ground-level filters and greasing points are all simple and safe to access. There is also a quick anti-spill drain on the underside of the superstructure that doesn't require tools, allowing lubricant to be easily drained in an environmentally friendly manner. Checks are done more quickly, further improving uptime, while a reversible cooling fan is operated from the cab, helping to prevent radiators clogging and overheating problems developing.