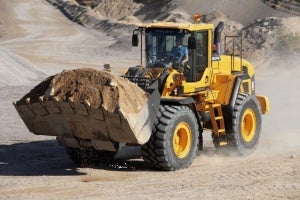 With a 20% increase in lifting force, the L150G, L180G and L220G are the foundation of the G-Series range of wheel loaders from Volvo Construction Equipment. And common to the whole family they offer higher productivity, improved fuel efficiency and stronger hydraulics.
Featuring engines and driveline systems for improved productivity, lower emissions, greater smoothness, serviceability and operator comfort, the award-winning G-Series is the latest generation of wheel loaders from Volvo Construction Equipment.
More power, torque & fuel efficiency
The G-Series is a complete range of loaders that meet the requirements of Stage IIIB and Tier 4i emissions legislation. Part of the prestigious red dot award-winning G-Series, the L150G, L180G and L220G are all fitted with Volvo's 13-liter, six-cylinder turbocharged V-ACT (Volvo Advanced Combustion Technology) off-highway diesel engine, which features cooled gas recirculation and a particulate filter with active regeneration that reduces emissions without any loss of performance or operation.
Producing between 220 and 274 kW (295 – 367 hp), depending on the model, these three units provide high torque at low engine speeds. As well as meeting the low emissions requirements of the legislation, the D13 engine also leads the industry in terms of fuel efficiency, reliability and low noise levels. The production of torque and power at low engine speeds, combined with load-sensing hydraulics, removes the need to overrun the engine, which in turn extends engine life and lowers fuel usage and noise.
More powerful hydraulics cut cycle times
The Volvo G-series wheel loaders boast a 20% increase in lifting force and 10% increase in breakout force. This ensures smooth, full buckets – resulting in faster cycle times and increased productivity. The powertrain is designed to work in harmony for optimum performance. Engines, transmissions, drivelines, heavy-duty axles, and hydraulics are Volvo-made and optimized to match each other and ensure maximum performance and reliability.
Up to 15% fuel savings
Consisting of a torque converter with Lock Up and free wheel stator, Optishift integrates the Volvo-patented Reverse-by-Braking (RBB) function – reducing fuel consumption by up to 15%, as well as increasing operator comfort and driveline durability. When changing from forward to reverse (or vice versa), RBB applies the standard service brake instead of the torque converter, bringing the machine to a halt and putting less stress on the converter and transmission.
Volvo's patented Torque Parallel (TP) linkage combines the benefits of Z-bar and parallel linkages in one system, delivering good parallel movement and high breakout force, even in the highest lift position.
Industry-leading CareCab
With the ROPS/FOPS approved Volvo Care Cab, visibility is excellent. With controls close at hand, operators can breathe easily, thanks to efficient air-management and filtering systems and get on with the job in a low-noise and vibration work environment. Also, the accelerator pedal applies an appropriate amount of mechanical back pressure to encourage fuel-saving operating techniques.
Caring for the machine
The G-Series comes with advanced electronic monitoring diagnostics that are designed to prolong machine life, enhance uptime and maximize productivity. Contronics monitors functions in real time and alerts the operator if problems occur. MATRIS, meanwhile, charts and analyzes data on machine handling and operation. VCADS Pro allows a machine to be fine-tuned to specific applications, further improving performance. CareTrack uses a transmitter that allows current machine data to be viewed via the internet, for fast maintenance and repair decisions.
Servicing is easy, with daily pre-start items quickly checked, and scheduled service items conveniently grouped together. The G-Series is fitted with an engine cover that provides better engine compartment ventilation and can be electronically opened backwards – giving good access for cleaning or servicing. Centralized, ground-level lubrication banks lower the time spent on scheduled maintenance.