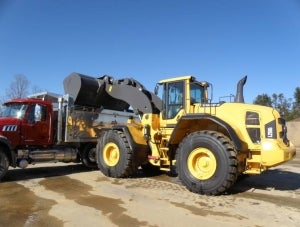 Designed to match the needs of on-highway trucks, the L250G is purpose built to be a heavy-duty machine with plenty of power and features larger bucket sizes.
Part of the prestigious red dot design winning G-Series, the L250G has a sleek and modern appearance, as well as a new engine and driveline system for improved productivity, lower emissions, greater smoothness, serviceability and operator comfort. The L250G also features a powerful Z-Bar loader linkage that allows for high breakout force for digging in hard materials. Its heavy-duty linkage, lift arms and cylinders also offer high lift capacity and rapid hydraulic reaction, resulting in faster work cycles.
With a 6.9 cubic meter rehandling bucket, the L250G quickly fills the truck in only two passes – two full buckets for one full truck. Add in strength and durability and the result is more loads in less time, meaning better onsite productivity. Volvo's latest addition to its large wheel loader range combines the optimal mix of lifting force and traction, resulting in high bucket penetration.
Lowering emissions – without lowering productivity
The L250G is fitted with a fuel efficient Tier 4i/Stage IIIB certified engine that is married to drive train, hydraulics and lifting systems that are all designed and produced by Volvo to work in perfect, productive, fuel efficient, harmony. The Volvo 13-liter, six-cylinder turbocharged V-ACT (Volvo Advanced Combustion Technology) off-highway diesel engine features cooled exhaust gas recirculation and a particulate filter with active regeneration. The active-type diesel particulate filter (DPF) temporarily holds the particulate matter and then incinerates it, further reducing emissions. There is no need to stop the machine in order to conduct the regeneration process, meaning no loss of performance or production.
Producing 290 kW (389 hp), this engine provides high torque at low engine speeds. As well as meeting stringent low emissions requirements, the D13 engine also leads the industry in terms of fuel efficiency. The production of torque and power at low engine speeds removes the need to overrun the engine, which in turn extends engine life as well as lowering fuel usage and dramatically reducing noise.
Powerful hydraulics – but only when needed
Intelligent load-sensing hydraulics deliver power to hydraulic functions only when needed, without unnecessary oil pumping which burns fuel unnecessarily. Hydraulic pump designs are coupled with high torque, low rpm engine, and provide full flow at the engine's optimal working range, eliminating the need to throttle to max rpm for higher flow, drastically saving fuel. Stronger lift and tilt functions are achieved, thanks to Volvo variable-flow axial piston pumps, with higher capacities for accurate control of attachment and load.
All made by Volvo, the powertrain is designed to work in harmony for optimum performance. Engines, transmissions, drivelines, hydraulics – all are optimized to match each other and ensure maximum performance and reliability. Volvo's heavy-duty wet brake axles promote long service life, while axle housings absorb all loads from the machine, leaving the axle shafts to transmit torque — reducing stress on propeller and axle shafts.