Twiflex manufactures the world's largest range of industrial disc brake calipers for industrial and mining applications. Founded in 1946, as an engineering research company, early products included centrifugal clutches and torsionally flexible couplings that are still manufactured today. In 1951 disc brake technology was introduced for industrial applications, and this new product range was consolidated in 1966 with the addition of industrial and marine disc brake designs based on original Dunlop patents.
Today, Twiflex' program of continual development has established them as leading suppliers of advanced braking technology to world-wide customers, on such diverse applications as processing lines, marine propulsion, elevators and escalators, winches, wind turbine generators, as well as crane hoists and travelling motions, conveyors, mine winders and more recently grinding mills.
Caliper disc brakes for industrial applications
Twiflex cater for all combinations of brake actuation. Direct acting brakes may be specified with pneumatic, hydraulic or mechanical application. Additionally, spring applied (sometimes referred to as fail-safe) calipers are available, released by pneumatic, hydraulic, mechanical or electric operation.
Braking forces for a single caliper range from 290N (65lbf) for one of the smallest lever brakes, to over 730,000N (more than 165,000lbf) provided by the latest modular holding brake design, developed especially for grinding mills.
Clayton 25t automatic mining loco (axle) fitted with GMR-SD brakes (Olympic Dam, Australia).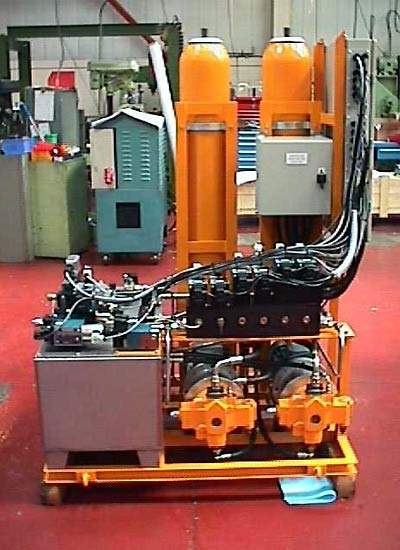 Electro-hydraulic powerpack: PLC controlled, two radial piston pumps, 500l capacity and 190bar operating pressure (Gaobazhou Shiplift, Qiangjiang, China).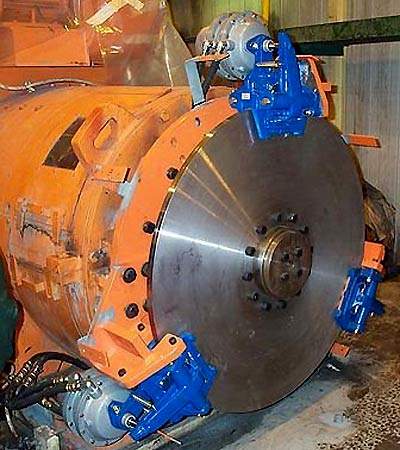 Erie Marion 8750 dragline Twiflex GMRSD, spring applied, air-released calipers and 500kNm torque ( Bucyrus, Australia).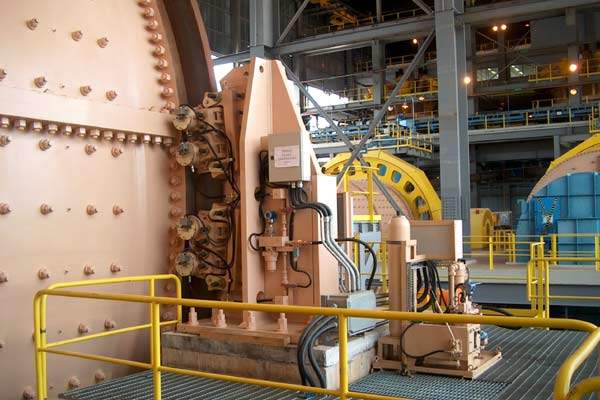 38ft (20MW) SAG mill Twiflex VMSDP spring-applied, hydraulic-released calipers plus powerpack and 13MNm torque (Sossego Copper Mine, Brazil).
Overland conveyor, 950ft long, Twiflex VKSD brakes plus open loop electro-hydraulic control (Bowie Resources, USA).
Depending on the model selected a variety of features are offered:
Self-adjusting pad wear compensation
Sintered pads for high speed/high temperature applications
Wide choice of asbestos free, organic pad materials, including carbon fibre
Standard, marine, mining and other special levels of protection
Brake status monitoring (on/off, pad wear, pad replacement)
Electro-hydraulic power packs
Twiflex aims to provide a single source for all its customers by offering a comprehensive range of hydraulic power packs, which are cost-effective and flexible to meet a range of braking requirements. An easy PC menu-driven process allows the user to select the best system.
The 'LC' hydraulic power pack range offers a cost-effective solution with simple on/off and limited control suitable for the smaller calipers.
The 'MP' hydraulic power pack range is available with different control options, including multiple brake circuits, high flow systems (for rapid brake response), a fast approach circuit with progressive torque build-up, a hand pump, a heater or cooler, a rapid pressure dump, a one-shot brake release for a power failure condition and proportional control from the customers PLC.
Both open and closed loop control is available and Twilfex can offer an intelligent braking system especially designed for conveyor braking. Utilising a stand-alone encoder, PID loop control monitors speed and continuously adjusts brake pressure to follow a pre-selected start / stop profile.
Intelligent braking system
The Twiflex intelligent braking system has the following features:
Includes a UPS with battery monitoring (controlled stop during power failure)
Controls start time applications with high overhauling load conditions
Controls stop time independent of load and speed
Fully enclosed in a NEMA 4 cabinet
Features on-board fault diagnostics and alarms interfacing with the users PLC
Global support
Twiflex, part of the heavy duty clutch brake division of US group, Altra Industrial Motion, is a leader in providing braking solutions to a global market. At its head office and manufacturing centre in the UK, Twiflex is able to provide a full design and development service along with both sales and support (including on-site commissioning) through a large worldwide distribution network.