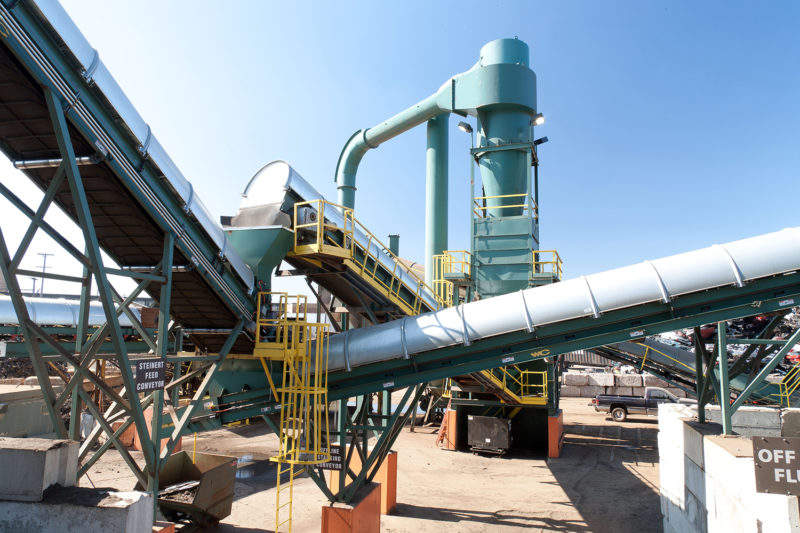 Mechanical shredding is a core process in the recycling of metals and other materials. Shredding, typically carried out by rotary sheers, ensures scrap material is evenly sized and allows baling for efficient storage, easy handling and the optimum performance of downstream processes.
The high energy density and large mechanical forces developed by metal shredding equipment means the safety of personnel is a primary concern for operators and equipment manufacturers alike. Today's largest commercial shredders are rated at 7,400kW (10,000HP) or more, and are capable of processing more than 550 tonnes of material per hour.
Shredding systems are designed to ensure that, in normal use, operators are kept well clear of all moving parts, and so material ejected from the shredder is fully contained. There are a number of common situations, however, that require manual intervention with shredder mechanisms. They include maintenance inspections, the removal of blockages and the replacement of cutting teeth.
The provision of the functions required to conduct these maintenance activities in a secure, controlled manner has been greatly simplified by Twiflex, part of the Altra Industrial Motion Corporation. with the introduction of fully integrated Turning, Locking & Braking (TLB) systems
The modular TLB system consolidates three normally separate interfaces and functions into one design package, simplifying specification, integration and installation, and saving space within the shredding machine. At the heart of the TLB system is a brake disc mounted on the shredder shaft and equipped with and external gear tooth profile. Caliper brakes acting on the disc can be used to bring the rotating shaft to a stop, or hold it in position, while a manual locking device can also be engaged to hold the shaft in place while work is underway.
The toothed edge of the disc enables the third function of the TLB system. An electrically driven pinion can be engaged with the disc using a manual clutch and hand wheel, then used to rotate the shaft in either direction. That allows the shredder cutting discs to be rotated to any required position for inspection, repair or tooth replacement.
The TLB system's controls are integrated with the main shredder control system, ensuring maintenance functions can only be activated when power to the main shredder drive system is safely isolated. Limit switches and sensors ensure that the machine is not restarted until maintenance activities are complete and the unit is unlocked and disconnected.
Physical integration of the components means TLB systems take up minimal space on the shredder shaft. That simplifies packaging considerations for equipment designers, allows the unit to be positioned optimally for access during maintenance activities and allows retrofitting to machines already in service. Installation of the TLB units is further simplified with the availability of split brake discs that can be fitted without the need to dismount the shaft.
Twiflex TLB systems use a fully modular design and can be supplied in appropriate configurations to suit shredders of all sizes. TLB units are also used to support maintenance activities in a wide range of other applications including industrial process equipment and marine propulsion systems.