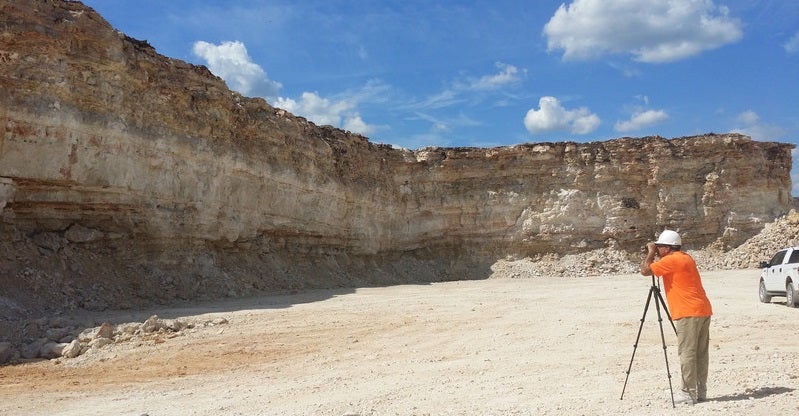 Laser Technology (LTI) specialises in the design and manufacture of innovative laser-based tools to measure distance, heights, and azimuth.
The company provides laser measurement technologies, which address real-world needs and applications, including mining, construction, forestry, utilities and surveying.
Laser-based measuring equipment for blast design and stockpiles in mining projects
Mining applications, such as rock face profiling for blast design, stockpile volume measurements, and geological mapping are all critical in making smart management decisions and maintaining a safe work environment. Laser Technology has an array of laser-based measurement tools that make mining tasks easier and safer.
The company provides a laser face profiling system that takes accurate measurements and calculates bench heights, as well as minimum and optimum burdens.
Due to the harsh conditions, the company recommends a rugged and reliable TruPulse laser range-finder and an Archer data collector to operate its easy-to-use face profiler software.
Using LTI's TruPulse 360 laser with built-in compass and MapSmart + Volume software operators can quickly measure stockpiles, offering time and cost-savings for mining projects.
In addition, the firm's laser range-finders and MapSmart field software assists with geological mapping needs.
Face profiling software for blast design in mining operations
LTI's Face Profiler software calculates bench heights, minimum and optimum burdens, drill hole angles and offsets, as well as hole depths. This removes guesswork out of blast design, significantly reducing production delays.
Face Profiler accurately measures surfaces to minimise the risk of dangerous fly rock and vibration incidents.
Combined with a professional TruPulse 200X laser range-finder, the software creates a complete profiling system, which maximises safety, manages inventory, and controls the costs associated with blast design.
The enhanced version of the software makes loading explosives more accurate, faster, and cost-effective. It offers an easy interactive interface, useful calculations and features, as well as robust reporting options.
Face Profiler 5.0 for blast design professionals is available for Windows Mobile and Windows 7, 8, and 10.
Safe and rapid measuring of stockpile volume
LTI's reflectorless laser technology is a fast and safe method of measuring a stockpile volume. The company's lasers have the ability to measure to almost any surface, including aggregate, coal, wood chips, and asphalt, without the need of a reflector.
TruPulse 360, in conjunction with LTI's MapSmart™ + Volume software accurately measures the volumes of a variety of materials.
A single operator can quickly gather and record data from a safe distance, with volume calculation results in less than an hour. For enhanced accuracy, pair the TruPulse 200 X with the MapStar Angle Encoder.
Geological mapping and surface mapping for mining operations
With LTI's unique reflector-less laser measurement technology, clients can quickly and safely map the entire surface of a mine, including unreachable visible structures on highwalls, inclines, and inaccessible or dangerous areas.
For additional productivity, the TruPulse 360 compass / laser can be partnered with GPS, expanding its capabilities by capturing remote GPS locations without ever occupying that point. Crew members can easily learn how to collect and map areas with minimal training.
LTI's MapSmart software was designed for non-surveyors and its range-finders are simple point-and-shoot tools.
Efficient and high-accuracy measuring, 3D mapping and modelling
The MapStar TruAngle precisely calculates a turned horizontal angle that can be referenced to any desired point or direction.
When integrated with a TruPulse 200X, clients can capture X, Y and Z coordinates for complete 3D mapping and surface modelling. With a smaller and lighter design, a more simplistic user interface and a lower price point, the TruAngle angle encoder is an attractive, alternative mapping accessory.
When mounted on a tripod, the TruAngle angle encoder is capable of producing +/- 0.05°C in angular accuracy with a simple user interface.
LTI's Face Profiler software calculates bench heights, minimum and optimum burdens, drill hole angles and offsets, hole depths and more.
LTI provides an array of laser-based measurement tools that make mining tasks, such as blast design and stockpile measurements, easier and safer. Our solutions allow you to capture the data from a safe location and gather data with the push of a button.
Using Face Profiler software has never been simpler or more efficient than it is today.
Laser Technology, Inc. (LTI), the leading designer of professional-grade laser rangefinders for field data collection and mapping, is announcing the release of the TruPoint TM 300, a fully integrated laser with vertical and horizontal angle encoders capable of producing 3D, survey-grade measurements.
The webinar will teach attendees how to successfully roll out new technology into their workflow. Learn how Maine D&B improved their efficiency, maximised job safety and controlled their blast design costs by integrating 2D profiling technology into their daily operation.
Laser Technology Inc (LTI) is announcing the release of their enhanced version of Face Profiler; blast design software for explosives engineering. Using Face Profiler software has never been simpler or more efficient than it is today with the release of Face Profiler 5.0 for Windows Mobile and its accompanying PC Reports software for Windows.
Laser Technology
6912 South Quentin Street
Centennial, Colorado 80112
United States of America