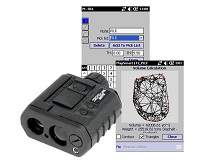 LTI's MapSmart® field data collection software is designed for anyone who needs to quickly and accurately map in the location of features in 3D or measure stockpile volumes. Upload a custom 'pick list' of commonly used descriptions from your PC to quickly identify measurement points. Work with a live map display with touch screen and the ability to quality check your data as you go. MapSmart can accommodate every situation you may encounter by offering four mapping methods. Measure quickly, safely and accurately, and then make calculations and edit data right in field.
With the Mapsmart + Volume upgrade, you can measure a stockpile and calculate the volume instantly. The software updates your map as you collect points, so you can feel more confident that the shots you take are being recorded correctly. Stockpile data can even be viewed in a raw format or as a contour map. For more useful results, enter the type of material you're measuring, and the software will even calculate the weight of your product.
With this simple yet versatile software, measuring stockpiles just might be the easiest thing you do all week.