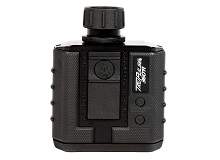 The TruPulse 360° R laser accurately measures distance, height, inclination values in percent slope, and azimuth and span between any two remote points.
Additionally, it has Bluetooth® capabilities for wireless data transfer to most handheld devices, including a smartphone.
The seven-power crystal clear optics provides a nice and wide field of view so you can easily narrow in on your target and have confidence knowing your measurement is on the mark. The horizontal design and more robust exterior make it possible to withstand harsh conditions and daily, rigorous use.