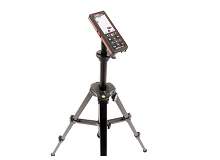 As the first phase-laser from LTI, the TruPoint 300 is a small, lightweight, compact measuring laser that costs a fraction of conventional technology, such as high-end 3D scanners and total stations.
It produces survey-grade accuracy and offers onboard data storage and calculations. The TruPoint 300 measures distance, inclination and horizontal angles for X, Y, Z measurements.
The integrated MapStar Angle Technology allows the unit to measure the distance between two remote points. This data can easily transfer to a smart device, such as data collection software from LTI, and export a DXF file into most CAD programmes.
The improved data collection workflow saves time and accurately captures measurements up to 300m with is +/- 1mm precision.
The TruPoint 300 total station is the go-to tool for collecting the measurements you need quickly, easily, and safely.