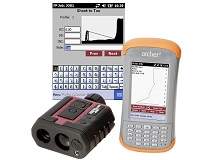 LTI's Face Profiler software calculates bench heights, minimum and optimum burdens, drill hole angles and offsets, hole depths and more. Take the guesswork out of blast design and start significantly reducing production delays. Face Profiler accurately measures profiles to help minimize the risk of any dangerous fly rock and vibration incidents.
With the upgrade to the new Face Profiler 5.0, you get all the benefits of the original program, plus many new market-driven enhancements. For those who do not field print reports, Face Profiler Reports for Windows provides the ability to calculate, adjust, and print reports from the desk with a larger view of the profile. The interactive screen has been enhanced for better 'tap to delete' and depth and burden display functionality at any point along a profile.
No other field profiling software can accommodate for bench corners by allowing the measurement of multiple profiles per borehole. Also, formatted reports can be printed to a PDF file, making them more secure for sending to stakeholders. These are just a handful of the enhancements that LTI has made to Face Profiler.
Face Profiler combined with a professional TruPulse or Impulse laser range finder creates a complete profiling system designed to help maximize safety, manage inventory, and control the costs associated with blast design, for less money than any other laser profiling package on the market.