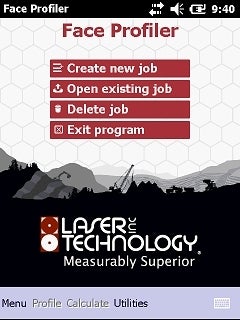 Laser Technology Inc (LTI) is announcing the release of their enhanced version of Face Profiler; blast design software for explosives engineering. Using Face Profiler software has never been simpler or more efficient than it is today with the release of Face Profiler 5.0 for Windows Mobile and its accompanying PC Reports software for Windows.
Download the PC version for free from the downloads section to adjust, calculate, and report a demo profile. Profile with Face Profiler and a TruPulse 200X to stay safe and in compliance with mining regulatory agencies, and additionally:
Control blast costs by getting it right the first time
Manage inventory effectively with blasts that satisfy demands exactly
With the upgrade to Face Profiler 5.0, you get all the benefits of the original programme plus many new market-driven enhancements. For those who do not field print reports, Face Profiler Reports for Windows provides the ability to calculate, adjust, and print reports from the desk, with a larger view of the profile.
The interactive screen has been enhanced for better 'tap to delete' and depth and burden display functionality at any point along a profile. No other field profiling software can accommodate for bench corners by allowing the measurement of multiple profiles per borehole. Also, formatted reports can be printed to a PDF file, making them more secure for sending to stakeholders. These are just a handful of the enhancements that LTI has made to Face Profiler.
A decade ago, when the original Face Profiler program was released, the Impulse was the measurement tool for blast design. Last year, the release of the TruPulse 200X has upped the game as the most precise, least complex, and most cost-effective measurement tool on the market. Measure quickly, safely, and accurately, then review and adjust data and produce complete reports right on the field.
Together with Face Profiler, the TruPulse 200X becomes a safe and efficient blast design system that finishes projects on schedule and on budget. Keep your benches beautiful with LTI's TruPulse 200X and Face Profiler 5.0 blast design system.
LTI provides an array of laser-based measurement tools that make mining tasks, such as blast...