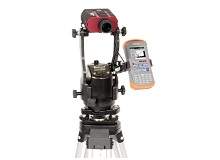 LTI's MapStar Laser Positioning Systems incorporate TruPulse laser rangefinders, which measure distances and inclination angles, and a MapStar TruAngle which measures angle measurement from any desired reference point.
Integrated together brings you the capability to capture X, Y and Z coordinates for complete 3D mapping and surface modeling. This creates a complete solution for mapping and positioning that will record angle, inclination and distance to each point sighted.
This is a great alternative to using a total station, as there's no extensive training or huge upfront financial investment required. Our modular design also allows you to use the laser as a standalone so you can become more mobile when taking just distance and height measurements. LTI's MapStar Laser Positioning System will also link directly to a GPS System and GIS data collection software solutions.