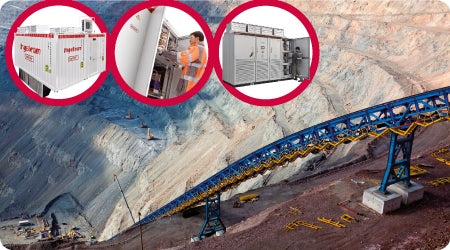 Ingeteam is a market leader specialising in the development of electrical equipment, such as motors and frequency converters. The company primarily serves sectors such as energy, mining, industry, marine, and rail traction, seeking to optimise energy consumption while maximising generating efficiency.
Its mission is to develop in-house products that provide custom solutions, adapting to each client, application and sector in which they operate.
A complete product package
Ingeteam's mining sector is set to become a global supplier of comprehensive product solutions for mining applications, featuring state-of-the-art power electronics and machines designed and manufactured with in-house technology to develop a complete electrical drive package.
Ingeteam's business model in the mining market offers everything from a single frequency converter to a complete drive train package, with rectifier transformers, frequency converters and motors with corresponding accessories.
Comprehensive application in the entire production process
In the industrial-mining sector, Ingeteam offers a wide variety of solutions for mining and mineral processing, developing applications both for new installations as well as for the refurbishment and expansion of existing ones, and attending to the complete production process, from extracting material and processing it to transporting and delivering it.
Complete transportable electrical rooms
Ingeteam offers prefabricated, modular power control room housing, complete power distribution and control cabinets, as well as auxiliary systems such as heating, ventilation and air conditioning; dust filter pressurisation; fire protection; and access control.
Customer service worldwide
Services from Ingeteam include its 360º CRS programme.
Support:
Direct e-mail contact to Ingeteam engineers
Telephone availability of an engineer during office working time.
Preventive maintenance:
Regular inspections may be scheduled in order to meet the specific recommended maintenance schedule
Preventive maintenance reduces risk of failures and increases product life expectancy
Remote diagnostic support:
Remote diagnosis is a very useful tool that provides quickest way to receive qualified and skilled first technical assistance
Guide customer for through a fast and efficient fault-finding procedure
HW and SW devices are embedded in all Ingedrive converters
Emergency technical support:
This support service provides immediate phone access on a 24 hour / 365 days basis to a specialised engineer with problem-solving capabilities.
Training and learning:
Specific specialist for customers training courses at Ingeteam.
Investment in professional training improves productivity.
On-site technical support:
Skilled Ingeteam engineers will be ready to support customer physically on-site, at request, for troubleshooting and technical assistance.
Life cycle:
Converters design life for 20 years.
The MV500 series of the INGEDRIVE converter range is composed of medium-voltage, IGBT-based, frequency converters. They are designed to control induction, synchronous or permanent magnet motors in a wide range of industrial and marine applications. Its modular design makes it possible to encompass a wide range of powers and voltages while its intuitive structure facilitates its use and maintenance.
Ingeteam is a market leader specialising in developing of electrical equipment, motors, generators, frequency converters, electrical engineering and generation plants. The company serves four key sectors: energy, industry, marine and rail traction.
In September 2011, the company Outotec, located in Espoo (Finland), awarded Ingeteam a contract for the design and supply of the main drive equipment for a 2.3MW SAG mill and a 2.1MW ball mill to be installed in Russia. Outotec is a global leading company that designs and delivers turnkey projects in the mining industry, as well as being one of the largest mechanical suppliers of grinding mills worldwide.
In April 2012, the Chinese company Shanghai Hualing awarded Ingeteam a contract for the design and supply of the main frequency converter for a mine hoist to be installed in Tongting, Anhui province, China.
In February 2015, Ingeteam was awarded a contract by Zitrón for the electrical equipment for a mine hoist in Bolivia. The order comprised the main electrical package, including the main circuit breaker, rectifier transformer, frequencey converter, as well as related engineering and on-site services.
The supply consists of phases II and III of what is to be largest concentrated solar power complex in the world which, once completed in 2018, will produce over 560MW of solar energy.
Ingeteam SpA (Chile) has announced the appointment of Mr Claudio Álvarez M, mining engineer and industrial civil engineer, as the business development manager of industrial and marine drives. Claudio has over 15 years experience in the mining sector after working in different companies in this sector, the last being Howden Chile, where he was responsible for opening its sales office.
Hoist and Haul are the leading conferences in the worldwide mining sector in terms of hoisting and hauling.
In February, Ingeteam was awarded a contract by ZITRON for the frequency converter equipment for a mine hoist in Bolivia.
Ingeteam Power Technology, S.A. - Headquarters
Parque Tecnólogico, 110
48170 Zamudio
Bizkaia
Spain
Ingeteam
Barrio Altamira, Pol.Industrial Txara S/N
Beasain
20200
Gipuzkoa
Spain
Ingeteam Inc.
3550 W. Canal St.
Milwaukee
53208
Wisconsin
United States of America
Ingeteam S.r.l
Via Emilia Ponente 232
Castel Bolognese
48014
Ravenna
Italy
Ingeteam Sp. z o.o.
ul. Kozykowa 60/62 m 39
Warsaw
02-673
Poland
Ingeteam a.s.
Technologická 371/1
Ostrava
Pustkovec
70800
Czech Republic
Ingeteam GmbH
Herzog-Heinrich Strasse 10
München
D-80336
Germany
Ingeteam GmbH
Speditionstrasse 21
Düsseldorf
D-40221
Germany
Ingeteam SAS
140 Rue Carmin
Le Naurouze C
Labège
31670
Auvergne
France
Ingeteam S.A. de C.V.
Ave. Revolución, 643 Local 9
Colonia Jardín Español
Monterrey
64820
Nuevo Leon
Mexico
Ingeteam
Cali No. 534. Col. Lindavista
Delg. Gustavo A. Madero
Códigos Postales
07300
Distrito Federal
Mexico
Indar América S.A.
Yucatán no.1 Santa Clara. Ecatepec
Estado de Mexico
55540
Códigos Postales
Mexico
Ingeteam Ltda
Estrada Duílio Beltramini, 6075
Chácara São Bento
Valinhos
CEP 13278-078
Sao Paulo
Brazil
Ingeteam
Rua Antonio Sprada
61- Vila Hauer
Curitiba
81630-300
PR
Brazil
Ingeteam (Pty) Ltd.
Unit no 2 Alphen Park
South Randjiespark
Midrand
1682
South Africa
Ingeteam Power Technology India Pvt. Ltd.
2nd Floor, 431, Udyog Vihar, Phase III
Gurgaon
122016
Haryana
India
Shanghai Ingeteam Automatic System Engineering Co. Ltd.
Shanghai Trade Square, 1105
188 Si Ping Road
Shanghai
200086
P.R.
China
Ingeteam
No 166. Rd Jianghai
Nantong Economic and Technology Development Zone
Nantong Jiangsu
226017
P.R.
China
Ingeteam Australia Pty Ltd
Suite 112, Level 1, Mike Codd Building 232
Innovation Campus, Squires Way
North Wollongong
2500
New South Wales
Australia