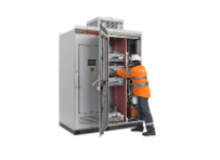 The MV100 series of the INGEDRIVE converter range is composed of medium-voltage, IGBT-based, frequency converters.
They are designed to control induction, synchronous or permanent magnet motors in a wide range of industrial and marine applications. Its modular design makes it possible to encompass a wide range of powers and voltages, while its intuitive structure facilitates its use and maintenance.
The whole Ingedrive converter range offers a powerful configuration tool enabling you to view and parameterise drives both locally using a touch screen and remotely via an Ethernet connection.