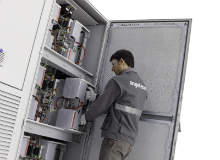 The MV700 series of the INGEDRIVE converter range is composed of a medium-voltage, IGBT-based, frequency converter.
They are designed to control induction, synchronous or permanent magnet motors especially focused on quadratic loads on industrial and mining applications. Its compact design featuring an integrated transformer as well as its forced air cooling allow a simple and quick startup of the Ingedrive MV700 converter.
The whole Ingedrive converter range offers a powerful configuration tool enabling you to view and parameterise drives both locally using a touch screen and remotely via an Ethernet connection.