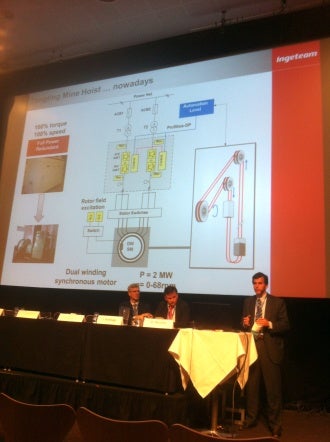 Hoist and Haul is the leading conference in the worldwide mining sector in terms of hoisting and haulage.
This is celebrated every five years and this year the venue was The Clarion Hotel in Stockholm, Sweden from 21 – 25 June.
Ingeteam presented the following conference in the section dedicated to motors and drives: "Ingedrive MV100. A Medium Voltage, Full Power, Redundant AC Drive for Driving the Tongting Mine Hoist System."
This conference covered the most important details of this special project in China.
Ingeteam offers Ingedrive MV frequency converters, with AFE regenerative rectifiers for hoists from 800kW to 8,000kW, which offer a highly competitive solution in terms of space, low number of components and excellent reliability.
---
Image: Ingeteam at Hoist and Haul 2015. Photo: courtesy of Ingeteam.