Furukawa Rockdrill (FRD) Europe
Surface Crawler Drills and Breakers for the Mining and Construction Industries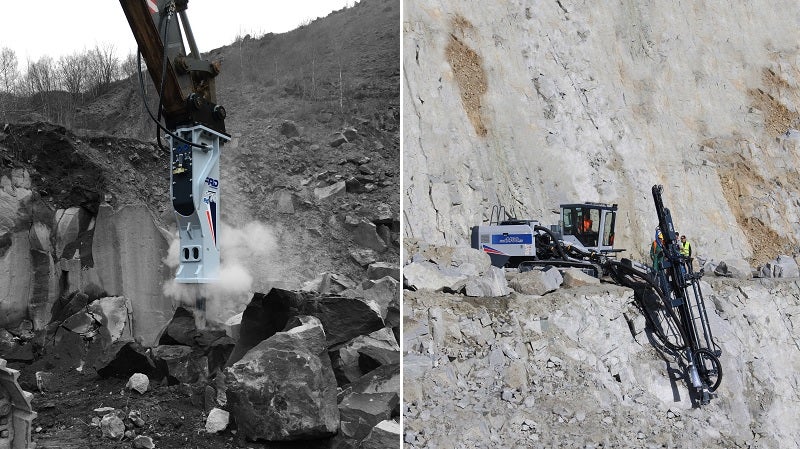 Furukawa Rockdrill (FRD) Europe is responsible for the sale and support of hydraulic and pneumatic surface crawler drills, hydraulic breakers and attachments for the construction and mining industries.
FRD Europe is a wholly owned subsidiary of Furukawa Rockdrill Japan.
Hydraulic drilling and demolition equipment for the mining sector
FRD's premium products are designed to address the tough demands of customers worldwide.
The company is dedicated to high-quality, long-life and ultra-reliable hydraulic drilling and demolition equipment, primarily breakers, crawler drills and attachments, are used in over a hundred countries.
FRD's network of distributors is supported by top-quality hardware, constant training, and high-quality customer service. The philosophy of the company is built upon creating long-term relationships that are in turn supported and nurtured by providing clients with what they need in all ways and at all times.
Tophammer and down-the-hole drilling machines
FRD surface crawler drills are available in tophammer and down-the-hole configurations.
Tophammer machines are designed for holes ranging from 64mm up to 140mm, at hole depths of up to 33m. Drifter power ranges from 14.2kW to 28kW.
Down-the-hole drilling is available for hole sizes from 89mm to 165mm, and hole depths of up to 40m.
Options are available for a variety of drilling and environmental conditions, as well as accuracy of drilling and data acquisition needs. All machines are designed to comply with safety, environmental and health requirements.
Hydraulic impact breakers and demolition tools
Hydraulic impact breakers start from an operating weight of 69kg, all the way up to 6,500kg, suitable for excavators starting from as small as 0.5t, up to 100t. This includes the FXj series, which has mono-block cylinders that improve reliability and reduce running costs.
Various configurations are available for all excavators, including backhoe loaders. They also come with various types of frames for different needs, such as standard, silent and extra-silent frames.
FRD offers a large range of demolitions tools for construction applications, including primary cutters / crushers, secondary crushers, multi-purpose crushers, rail cutters and scrap shears. The company also supplies a series of sorting grabs and compactors for various applications.
About Furukawa Rockdrill Europe
FRD ensures a top level of performance, durability and reliability in its products. Through years of experience, the company's designers have developed products that deliver a consistently high level of performance, even after several years of service.
The company's head office is based in Utrecht, the Netherlands, and includes offices, a warehouse and an assembly workshop.
All FRD crawler drills come completely manufactured and assembled from one of three FRD factories in Japan.
Hydraulic breakers are partially assembled in Netherlands and hydraulic attachments are sourced from a European partner.
Furukawa Rockdrill (FRD) Europe Images
Press Release
FRD Europe, in partnership with our dealer network, has performed demonstrations with HCR1400-ED, HCR1450-ED and HCR1600-ED models across Europe during the last 24 months.
Read more
Furukawa Rockdrill Europe BV