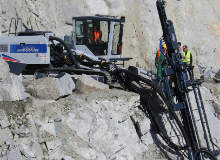 Power in your hands. An upgraded operator cabin where almost everything is controlled means operators are more comfortable while being productive.
Proven reliability and maintainability
Traditional reliability with a more modern approach. A built-in diagnostic system finds faults rapidly to reduce downtime. Clever thinking and application of components all around mean improved overall system reliability.
Better for the environment
New generation engines and exhaust gas after treatment results in a lower carbon footprint. Smart application of technology means the engine only works when it's really needed.
Improved drilling performance
Proven performance now with more punch! Produce more tonnes with a new range of high-power, high- frequency drifters and higher flushing air volume combined with Furukawa's famous drilling parameters control system.
Comfort and control
Care has been taken to ensure that the operator has the highest levels of comfort and control. In addition to an air suspended chair with armrests, all machine and drilling controls are within easy reach and even easier to use than before.
Thanks to new materials and other external improvements, sound levels have been further reduced. Other standard features include: rear and side view cameras, radio, heating and air conditioning, 12V DC electrical outlet, cup holders and sun screens. Most fault finding is done from the touch screen display in the cabin.