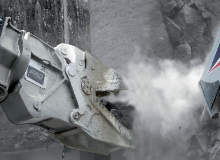 Behind their simple exterior FRD breakers hide many years of experience, careful learning and intelligent design. There are hundreds of reasons to let FRD products do your work, here are just some of them.
A. Standard frame with pin and bush connection
B. Standard frame for top bracket mounting (FT)
C. Silent for top bracket mounting (S)
D. Extreme Silent for top bracket mounting (XS)
High power / weight ratio
The use of high-quality materials and highest quality production process results in a Breaker body with less weight, with higher output/performance.
Minimum moving parts
The fewer parts move, the fewer parts will wear. This reduces maintenance cost and downtime.
Adjustable valve
The breaker can be adjusted to any specification of the carrying excavator and to each required optimal working condition.
High-reliability
The use of the best quality materials and the highest quality standard in production securely creates a product that will work longer and is more efficient.
Low-maintenance
High-quality materials give longer lifetime to each part, which drastically reduce the total maintenance cost.
Lowest lifetime cost
Over long periods the advantages of less downtime and fewer parts to replace results in a cost per year, which are the lowest in the market.
Sound power and sound pressure
These are two distinct and commonly confused characteristics of sound. Sound power is the acoustical energy emitted by the sound source, and is an absolute value. It is not affected by the environment.
Sound pressure levels quantify in decibels the intensity of given sound sources. Sound pressure levels vary substantially with distance from the source, and also diminish as a result of intervening obstacles and barriers, air absorption, wind and other factors.
Sound pressure is what our ears hear and what sound pressure level meters (SPL meters) measure.
FXJ Series
FRD's newest line of hydraulic breakers for excavators represents the latest in design technology.
With multiple patented enhancements, the FXJ series improves day-to-day performance, offering less maintenance and downtime, smoother operation, superior strength and the highest level of reliability. A wider hydraulic flow range allows for use on a broad range of carriers reducing inventory while increasing utilisation.
XP Series
As usual FRD has designed the XPerience line to offer the benefits of minimum maintenance needs and a maximum of user convenience and output assurance.
Large noise reductions of some 6dbA has been achieved against past models. Reduced vibration effects likewise make the models more friendly for users and the immediate user environment. Modern design and new colors complements a carefully thought through physical structure.