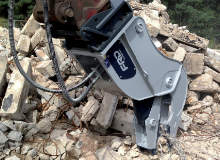 The three VXB models are designed for excavators from 2t to 13t operating weight. Compact design, large jaw opening and high crushing power are just three outstanding features of this series.
These crushers have an integrated booster system, which allows smaller excavators, with limited operating pressure, to achieve extremely high crushing force. All models are fitted with the well-known FRD hydraulic rotation system for precise positioning.
Depending on the model, the jaws are fitted with replaceable teeth.
The FRD VXB series has been designed according to the current standards, to meet the growing requirements in performance, durability and serviceability. Reliability and very low-maintenance cost is obvious.
FRD primary – VX series
The FRD Crusher is a primary demolition tool for cutting concrete structures and for cutting through reinforcing steel.
The design of the double cylinder allows a large jaw opening for this weight class. In conjunction with the low-wear Hardox crushing jaws the maximum power is combined with a minimum of wear.
Extremely stable housing with low weight:
Rod protection
Feed opening with optimised shape for easy collecting and loading of reinforcing steel
Optimal tooth geometry ensures that large concrete parts do not slip away from the crushed material.
Replaceable wear parts
VS Series
Because of the angled shape the FRD crusher is ideal for secondary demolition and crushing reinforced concrete elements.
The wide shaped jaw makes it easier to grab demolition material that has fallen on the ground. A clean separation of reinforcement steel and concrete, as well as subsequent crushing of the concrete elements for crushing plants or just for filling appropriate particle size is guaranteed. With the steel cutter blade it is easy to cut the reinforcement bars to the desired length.
VM Series
These are the tools for cutting concrete structures, steel profile cutting and separating reinforcing steel. The models are equipped with hydraulic rotation and can therefore be used in primary, as well as in secondary demolition.
Extremely stable housing with low-weight
Speed valve for quick and efficient work
Feed opening with optimised shape for easy collecting and loading of reinforcing steel
Optimal tooth geometry ensures that large concrete parts do not slip away from the crushed
material
Replaceable wear parts