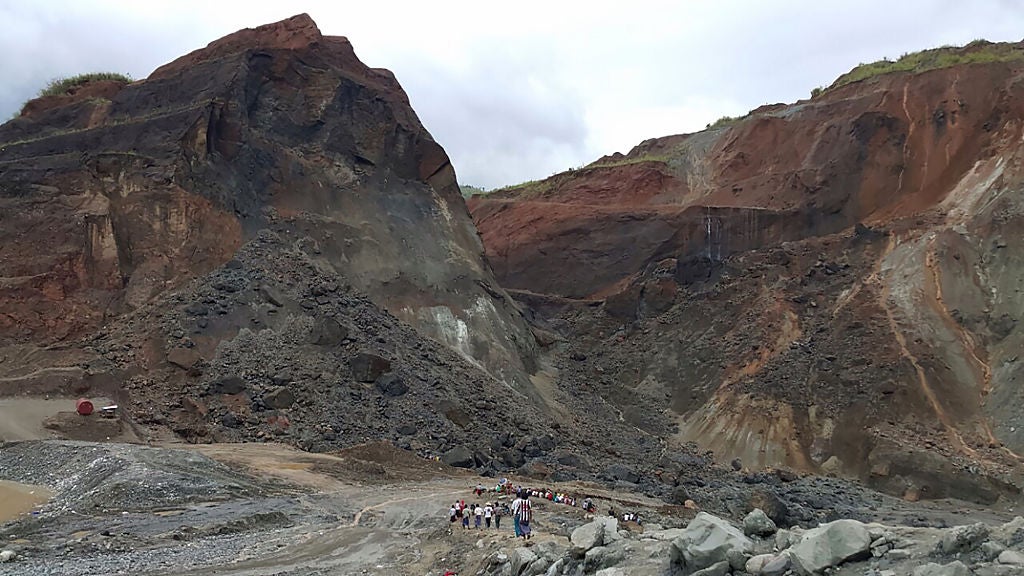 At least 30 people are missing at a jade mine in northern Myanmar after a mudslide hit the area as the monsoon season continues to make conditions in the mountainous region dangerous.
Official mining operations in the area were halted before the mudslide amid extreme rainfall. Many of the missing are believed to be locals who were scavenging for jade at the surface of the mine sites. The landslide occurred at approximately 3.30pm local time on Sunday, the BBC reports.
The rain loosened large portions of leftover dirt more than 150m high, a biproduct of mining operations. Huge chunks of land slid down the cliffs into the mines' pits, sweeping up or burying the locals on its way.
Survivors of the mudslide described a wall of mud, rocks and floodwater coming down on them as they were digging for the semi-precious stone.
The leader of a local rescue team told the Associated Press that more than 30 miners were swept into a lake by the landslide. Eight people were injured and taken to hospital immediately after the incident.
A rescue worker told the Associated Press than 34 people were confirmed missing, while eight were injured and were taken to a hospital on Sunday.
"We haven't found any dead bodies yet," said another the rescue worker, who spoke on condition of anonymity because he feared being arrested by the military. Most of the people missing are men.
The mountainous town of Hpakant in the northern Kachin state is home to some of the world's richest jade deposits, but mines remain largely unregulated. Deadly landslides are not uncommon. In April 2019, 51 people were left missing after a landslide hit the Hpakant region. Just three months later in July, a further 19 people went missing after another mudslide occurred in the same area. In July 2020, at least 162 people died after a landslide hit a jade mine.
Update: It was confirmed by a local fire service on Wednesday that at least 32 people caught up in the landslide are dead. All of the bodies recovered were men, and all but one have now been returned to their relatives to be put to rest.