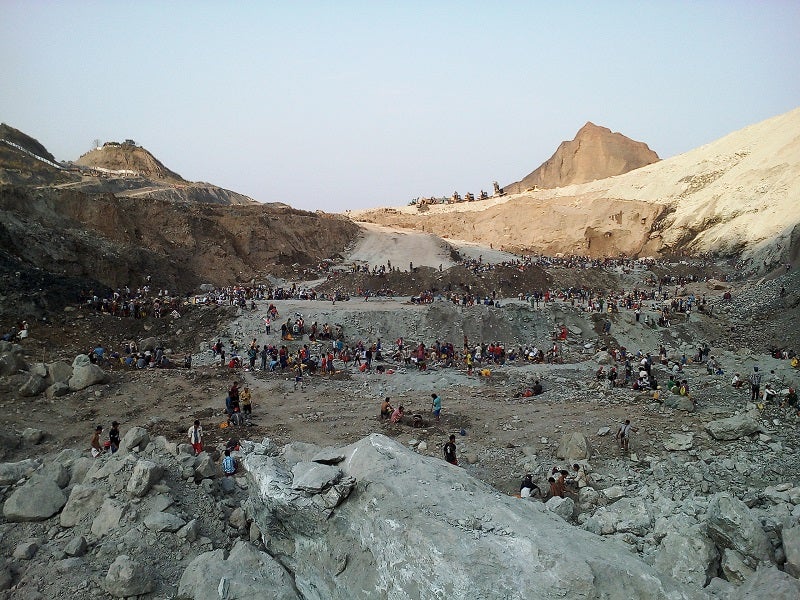 At least 19 people have died following a landslide in the Hpakant region of Myanmar's Kachin state.
According to the Myanmar Ministry of Information, a cliff along the mine collapsed and fell 5,000ft into a nearby lake, killing 16 security guards and three police officers.
Two officers were also injured but were rescued and sent to hospital. Authorities also reported that one four-wheel drive car and three security guard posts were buried in the landslide.
In a Facebook update, the Hpakant Township Information and Public Relations Department said: "So far, the bodies of 13 security guards have been retrieved from the mud lake, and the rescue operation is on to find the remaining three security guards and the three policemen."
This incident follows another landslide at a jade mine in the Hpakant region in April 2019, which killed at least 54 miners. Another landslide occurred in a Hpakant jade mine in July 2018, killing 15 people and injuring a further 45.
Tragic landslide in #Hpakant #Myanmar. Deepest sympathies to the families. Highlights urgent need to improve environmental management plan, regulatory, legal framework & practice on occupational health & safety for sustainable mining operations. https://t.co/fPEwrZACyq

— Knut Ostby (@knutostby) July 29, 2019
The Myanmar Government has ordered all mining activity in Hpakant to cease from May to October 2019 during the country's monsoon season. Despite this, people in the area have reported a number of "scavengers" operating in Hpakant jade mines.
Police chief Than Win Aung told Reuters: "The companies aren't operating because of the water. Security people are on duty in order to prevent landslides due to illegal mining."
Jade mining is a highly lucrative but unregulated practice in Myanmar. According to the most recent data published by the Myanmar Government official sales of jade were worth around $704m in 2016-2017, but analysts argue the value of the industry is much larger.
Global Witness Myanmar Extractives team leader Paul Donowitz told Mining Technology: "We're not surprised to hear about this terrible incident. It's very common that large-scale mine operations move huge amount of soil, creating massive pits that fill with water which they abandon when their permit expires.
"These often break, killing whomever is below in a torrent of mud and waste and water and rock. The conditions in Hpakant, even with the current pause for the rainy season, are extremely hazardous as miners have continued to mine ever more intensely.
"The government, especially the regulator, the Myanmar Gems Enterprise has no effective ability to enforce and monitor compliance with laws and permit requirements. The mining areas are controlled by powerful people and armed groups who control the trade and smuggling to China continues, depriving the Myanmar government and people of billions in badly needed revenue."