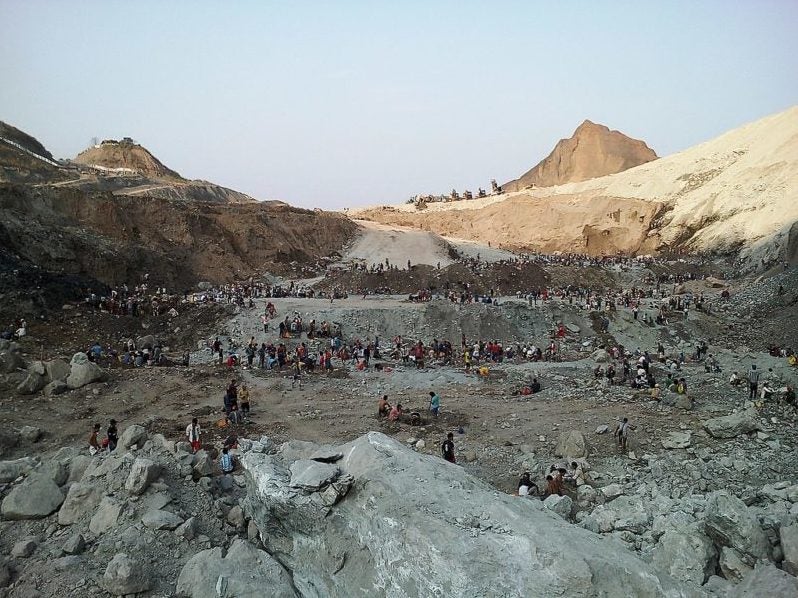 Three people have died and at least 50 more have been trapped following a mudslide at a jade mine in the Hpakant region of Myanmar's Kachin state.
According to the state's Ministry of Information, a lake, covering five acres next to the mine, collapsed, pouring mud into an area where miners were working around 20 minutes past midnight. The mudslide buried workers and equipment, and officials have little hope that those trapped will be rescued, or even that their bodies will be recovered.
"Finding bodies is proving difficult," said Khin Maung, chairman of the Thingaha Philanthropic Association in the nearby village of Seikmu. "About 60 volunteers from our philanthropic association are participating in the search for bodies."
While Phone Garein, deputy head of the Phakant General Administration Department, claimed that officials would complete "preventative measures" to minimise the risk of further breaches, the region has a poor history of safety compliance. In 2015, 113 people were killed, and more than 100 left missing, after a similar mudslide at a different jade mine in Hpakant.
The mine is owned by Australian company Unity, although the casualties are reported to have been working for domestic miner Myanmar Thura and Chinese company Golden Nine Dragons. While officials said that there were no migrant workers in the mine at the time of the accident, as the incident took place overnight, the presence of foreign mining companies in the country is a relatively new phenomenon, following reforms to the national mining law in 2016 that encouraged foreign investment in the country's mining sector.
These reforms also deregulated elements of the country's mining laws, with mining companies now guaranteed a production permit if they successfully complete prospecting and exploration work in a region. Much of the responsibility for awarding licences is also decentralised, with individual state governments responsible for ensuring safe practices, so health and safety compliance can vary across the country.
The accident also damaged more than 30 pieces of mining equipment, including machines and tracks, further damaging the Kachin jade industry that was estimated to be worth around £31bn in 2014. While the 2016 reforms aimed to take advantage of this undeveloped mineral wealth, including extending the maximum duration of mining permits from 15 to 50 years, the changes did not address operational safety.