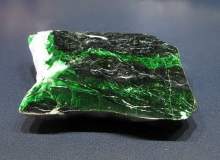 A 2015 analysis of Myanmar's jade mining industry revealed that it is poorly regulated, unsafe and rife with corruption – its sizeable profits being pocketed mainly by the military elite and their Chinese tycoon partners, rather than fed back into schools, healthcare or much-needed environmental reform. But with a new government that has pledged to bring in safety rules and crack down on smuggling set to take over later this year, is positive change on the horizon, or will it be too tough a task to topple the military from its current position of power and move towards a safer, more sustainable sector?
Although figures vary when it comes to the importance of Myanmar's jade mining industry, the country is widely reported to account for at least 70% of the world's production of jadeite, the higher quality of the two types of jade – the other being nephrite. The country is also the key source of the stone for China, where most jade is bought by consumers, often as a status symbol.
According to the National Museum of China in Beijing: 'The use of jade is a thread running through the whole history of the Chinese people, deeply influential and a beacon of the best in civilization,' and with China having more wealthy people now than ever before, prices, particularly for top-quality jade, have been pushed up. In fact, in 2014 a 27-piece jadeite necklace sold in Hong Kong for a record-breaking $27.44m after a seven-way bidder battle.
Widespread corruption spells total absence of safety standards
As the industry for mining the lucrative green stone in the north of Myanmar is controlled almost entirely by the nation's corrupt elite, it's not only incredibly dangerous for local miners – as was sadly proven last year when a landslide cost the lives of over 100 in Kachin State, the hub of jade mining in Myanmar – but it's also not benefiting the nation. Its main players have no interest in investing in the region to support the people in Myanmar, who need it most.
The London-based investigative non-profit Global Witness released a report in October 2015 entitled 'Jade: Myanmar's Big State Secret'. As the organisation's Asia director Mike Davis explains: "[Jade] is not inherently any more dangerous to mine than other gems or minerals. The danger stems from the total absence of safety standards and the impunity of the licensed companies, many of whom are controlled by military families, army companies, drug lords or crony tycoons, often in conjunction with hidden Chinese partners."
How well do you
really

know your competitors?

Access the most comprehensive Company Profiles on the market, powered by GlobalData. Save hours of research. Gain competitive edge.
Company Profile – free sample
Thank you!
Your download email will arrive shortly
Not ready to buy yet? Download a free sample
We are confident about the unique quality of our Company Profiles. However, we want you to make the most beneficial decision for your business, so we offer a free sample that you can download by submitting the below form
By GlobalData
The Global Witness report goes into detail, putting the size of the nation's jade industry at $31bn in 2014, the equivalent of nearly half of the national GDP and over 46 times the government's healthcare spend. It also reveals that the same year's tax receipts from jade stood at only $374mn, less than 2% of production. Unsurprisingly, Myanmar's jade trade is under sanctions prohibiting imports to the US.
New government's three key priorities
Yet there is hope for the future, if the incoming government, the National League for Democracy (NLD), which has said it will tighten control over Myanmar's poorly regulated jade mines and crack down on smuggling, sticks to its guns. With so much reform needed, though, it won't be an easy task.
"New regulations to prevent adverse social and environmental impacts are urgently needed and need to cover a range of areas including how and where mining licences are allocated, how mines are operated, how waste is disposed of and how mines are closed off and the landscape restored," Davis says.
"However, alongside or even before all that it is crucial that attention is given to the questions of who should own and control the jade – some sharing of control and benefits is going to be crucial to any lasting peace in Kachin State- what the resource consists of and what is the best use of it. No one has reliable data on jade reserves in Myanmar, and the questions of how the jade best be used, whether there should be extraction at all and, if so, at what rate and how, have never been examined."
"Questions of how the jade best be used, whether there should be extraction at all and, if so, at what rate and how, have never been examined."
With such a long list of problems to address, it's difficult to know where to start, but Davis and the team at Global Witness recommend three main priorities. Firstly, the government needs to develop new ownership, management and revenue sharing arrangements with Kachin State – both for jade and other natural resources – in conjunction with the Kachin Independence Army / Kachin Independence Organisation (KIA/KIO). According to the Global Witness report, the jade business is a significant driver of 'Myanmar's most intractable armed conflict' between the central government and KIA/KIO.
"[This should be] part of a comprehensive peace agreement," Davis says, "[to] maximise the social and economic benefits for the local and national population, taking account of the needs of both current and future generations."
Secondly, the government needs to prioritise full implementation of the Extractive Industries Transparency Initiative (EITI), an international framework for combating corruption, in the jade sector. This would involve publishing a comprehensive explanation of the jade licence bidding process, as well as the identities of all current licence holders and details of what licenses they hold, production volumes (by project), government revenues from concessions (by project), other revenues from jade, full contract and licence terms, including environmental and social protections, and arrangements with state-owned enterprises.
And lastly, EITI provisions on data disclosure should be made a requirement of new mining, gemstone and wider laws governing jade, and other natural resources.
Myanmar's causes for optimism
But is any of this realistic, given the power over the industry held by 'networks of military elites, drug lords and crony companies associated with the darkest days of junta rule', according to Global Witness? Davis admits that the simple answer is that 'we don't know'.
"It all depends on who will lead and comprise the government and what level of control it will have over the military," he says. "There are causes for optimism and the more scrutiny there is of military interests in the jade business, the stronger the new government's hand will be. But it is unlikely that the military will give up its jade empire without a fight."
That said, Davis believes positive progress can be expected in the next few years as more information is coming into the public domain and the people of Myanmar are becoming increasingly empowered to demand justice and accountability in the way jade is managed. However, Davis concludes that "There are of course many ways in which efforts to improve the situation could be obstructed."