SmithCo
Side Dump Trailers for the Mining Industry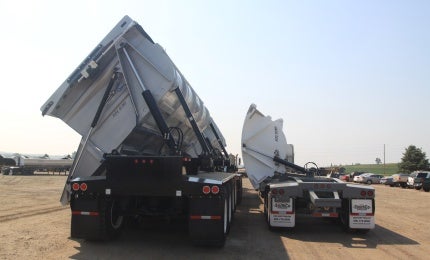 SmithCo Mfg., Inc of LeMars, IA is the leading North American manufacturer of side-dump trailers for the mining industry. Haul road proven trailers range from 60-100 metric ton capacity and they can be pulled in A-Train or B-Train configurations up to 200 metric ton.
SmithCo has been supplying on-highway trailers for themining industry since 1993. Whether it was hauling new ore or previously processed ore to be reprocessed with newer technologies the SmithCo trailers were hauling more payload, safer and with greater reliability.
In 2001 SmithCo began developing off-road (haul road) trailers specifically to be used on mine sites. These trailers were designed from the ground up for this application; they were not on-highway trailers with heavier components. The Mine Series trailers are not intended to replace haul trucks grinding up out of the hole.But more and more mines are getting into a distance haul issue where material needs to come in from satellite sites to the main processing or shipping location. The speed, cost effectiveness and efficiencies of a truck-trailers(s) combination can be a very good alternative process.
SmithCo offers two tub styles for the Mine Series trailers. The traditional round bottom bathtub style tub raises and side-dumps the material out over the top tub rail. This tub style is water-tight and can dump the material off of either side of the trailer.
The tipper style tub is a more rectangular shape with a door that opens to the side for discharging the material. This tub style allows for more cubic volume and up to 100t capacity in a single tub. The door discharges the material farther away from the trailer which can be critical with the increased cubic capacity.
These two tub styles cover a wide range of payload types.
You're always going forward with a side-dump trailer, no need to waste time backing into the pile to dump. Depending on the application and payload the material can even be dumped while moving (windrow the product out).
Mine series trailers and dollies
SmithCo offers the Mine Series Trailers in tandem-axle, tri-axle and quad-axle configurations. These trailers can be combined with SmithCo converter or jeep dollies to pull individual trailers in train.
The important criteria for the design of these trailers for a particular project is the density of the payload, distance of haul, road conditions, power unit limitations and desired payload weights.
Standard specifications for the Mine Series trailers are:
Removable/replaceable 3 ½" Kingpins
Spherical bearings in all tub pivots
Fabricated T-1/100k steel frames
AR400 or HardoxTub skin
3500 PSI hydraulic system
30,000lb-40,000lb axles
Sealed wiring harnesses
Arctic grade components available
Tarp systems available
Automatic greasers
Speed and safety
Depending on tub style the single stage lifting cylinders will vary from 6″ to 7″. These quick acting cylinders are cost-effective, maintenance friendly and stronger than telescopic cylinders.
Because 80%+ of the payload shelves off from the top down when being side-dumped, very little of the payload slides out of the tub. This greatly reduces tub wear and product hang-up that occurs in end dump trailers. Tub height when dumping is also much lower than other trailer designs.
SmithCo Side-Dump Trailers