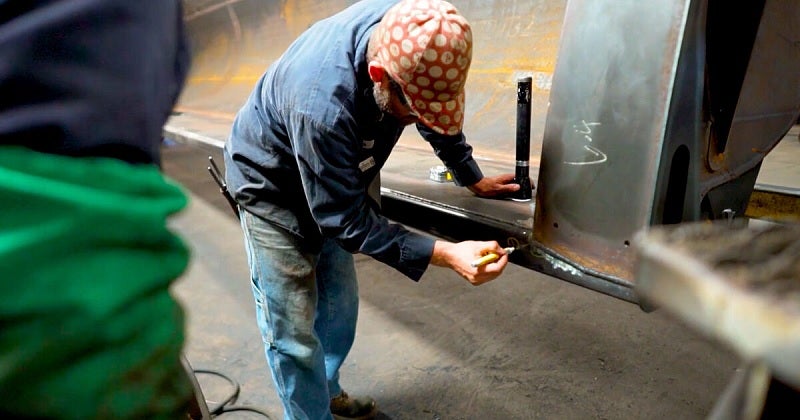 When it comes to side dump trailers, as with anything else, customers look for quality. Investing in a new trailer for your business is a big decision, and you want to rest assured that your time and money are going towards something that works the way it should, every time.
You can inspect for defects, but the only way to make a better product is to improve the pieces and processes you use to build it. Our goal is to have the highest quality trailers in the industry. To achieve that goal, we are constantly looking for ways to improve our equipment, our processes, and our training. Our engineering department works to continuously improve our product, and part of that is staying in regular communication with the manufacturing floor, as well as getting customer feedback on how we can make the highest quality trailer possible.
Quality Starts with Our People
At SmithCo, our company culture says there is no such thing as "good enough." Our entire staff takes pride in building the world's best side dump trailers. From welders and painters to engineers and inspectors, we all know that a trailer needs to be built right before we put the SmithCo name on it.
It starts with hiring and keeping great talent. We take the time to make sure our welders, painters, and assemblers are well-trained so they can produce a great trailer. One example of this is the extensive weld test that we give applicants. We are always willing to train people on how to achieve our standards, but we don't accept poor workmanship.
Quality Control, Step By Step
The majority of SmithCo's Quality Control takes place during the manufacturing process. Major components like Frame Rails and Tub Sides are inspected for weld quality before they are approved for use on a trailer. Then, once a frame or tub is welded together, our chief weld inspector goes through every tub and frame to review the weld quality and call-out any repairs that need to be made. This instant feedback means that our welders can correct issues before multiple trailers are affected.
After our pieces are blasted, they are reviewed again to be extra thorough. A blasted frame or tub will sometimes show imperfections that we didn't spot previously. From there, the trailer is painted. We're certain to check the paint's wet mil thickness as it is applied to ensure that we are meeting or exceeding the manufacturer's recommendations. Once the paint has dried, SmithCo checks paint thickness at over 30 different locations on each trailer to verify that we have a consistently even coating, as well as to review for paint imperfections that need to be addressed. Lastly, once all of the air, electric, hydraulic, and tarp systems are installed, our final QC audit checks to make sure everything is working properly. We go through the trailer from end to end and compare it to the build sheet to make sure that nothing was overlooked. This is our most time consuming and thorough inspection because it has to be right before it leaves our shop.
As the trailer flows through production, we track who works on the different areas of the trailer so that any quality concerns can be addressed. Each trailer gets its own packet of inspection sheets and quality sign-offs. This paperwork is retained on file for every trailer we produce and reviewed regularly for any irregularities.
A Reputation that is Second to None
SmithCo's reputation is built upon consistently giving our customers the highest quality side dump trailers on the market. Customer surveys and market research both show that we are the recognized leader in the side dump industry. If you ever have the chance to walk around at trade shows and compare us to the competition, you'll see the design, weld quality, fit, and finish of a SmithCo side dump is second to none.
We build quality into every step of the process of building trailers. That is why our warranty costs are a fraction of percent of revenue. That said, we stand behind our product and if something is wrong we will make it right. We make every effort to take care of our customers and if an issue arises with one of our trailers we do our best to get it fixed as soon as possible, whether that is sending out replacement parts or scheduling a repair.