Derrick® Corporation offers high-capacity fine screening equipment and high-efficiency screens for mining and industrial applications.
Known for superior separation efficiency, the company's products are distributed worldwide for mining applications, including coal, gold, copper, and iron; and for plastics, chemicals, silica sand, fertilizer, wastewater, and other screening processes. Our portfolio includes a large array of wet and dry screeners and is supported by a 24/7 support team and engineering capability dedicated to problem-solving and innovation in mechanical processing.
Derrick®'s products are engineered to save energy, increase productivity, and enhance profits. The company's large suite of fine particle separation equipment combines with long-life, wire and high-open-area anti-blinding polyurethane screens to maximize efficiency and quickly recover a return on investment.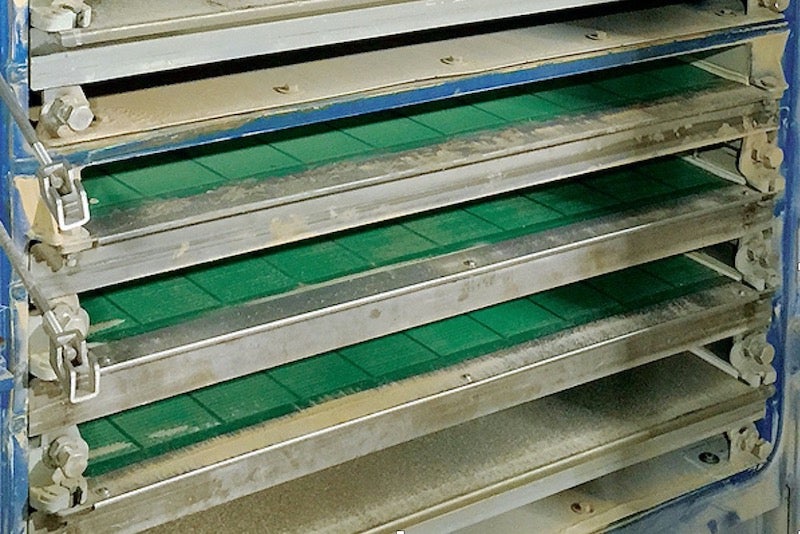 Derrick Polyweb® Urethane Panels operating in a Rotex® Minerals Separator™.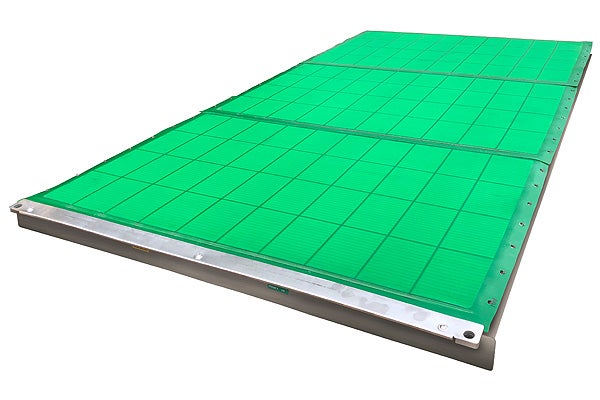 Polyweb® high-performance surfaces.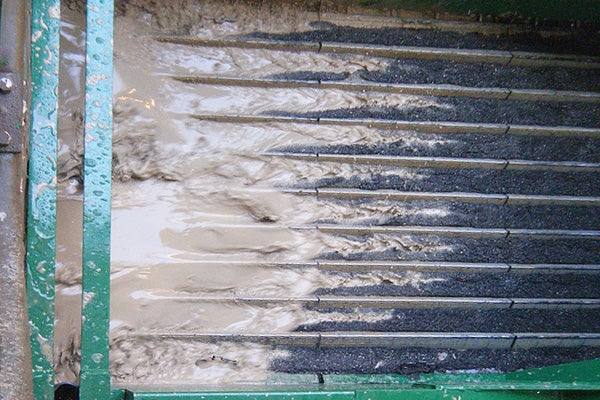 The feed section of Derrick's HYPERPOOL® Screen showcasing efficient screening.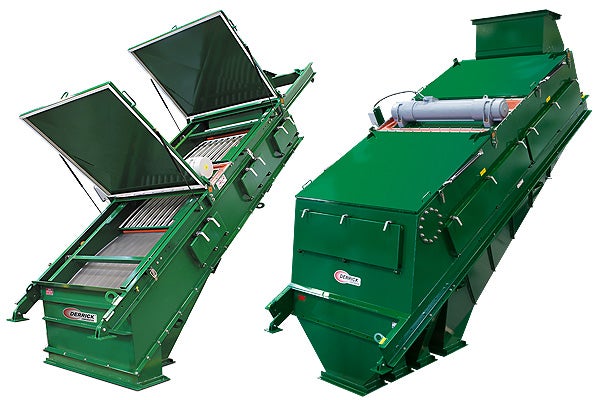 Application-specific dry screens with piston actuated covers to reduce contamination and increase air quality.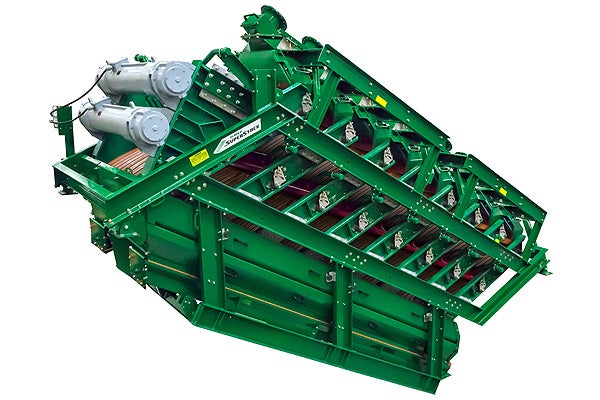 Derrick's SUPERSTACK® offering three times the capacity of currently available fine screens.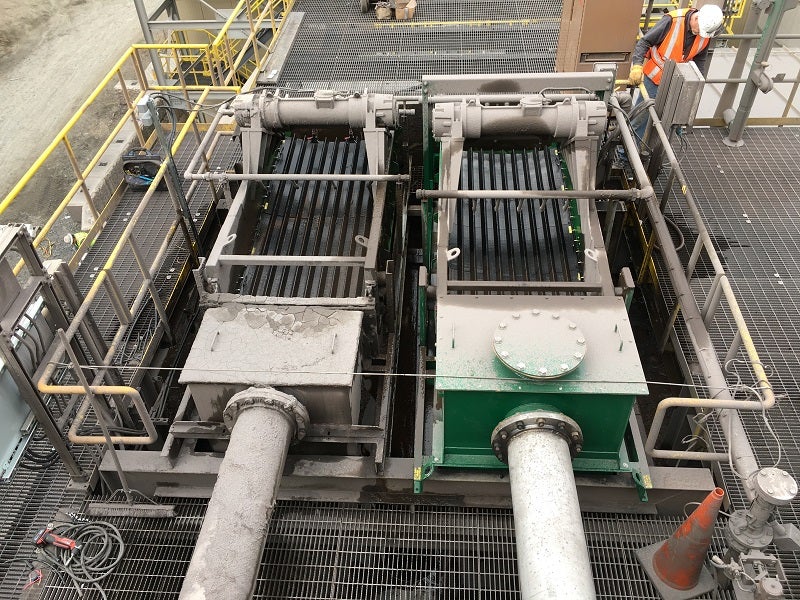 Hyperpool.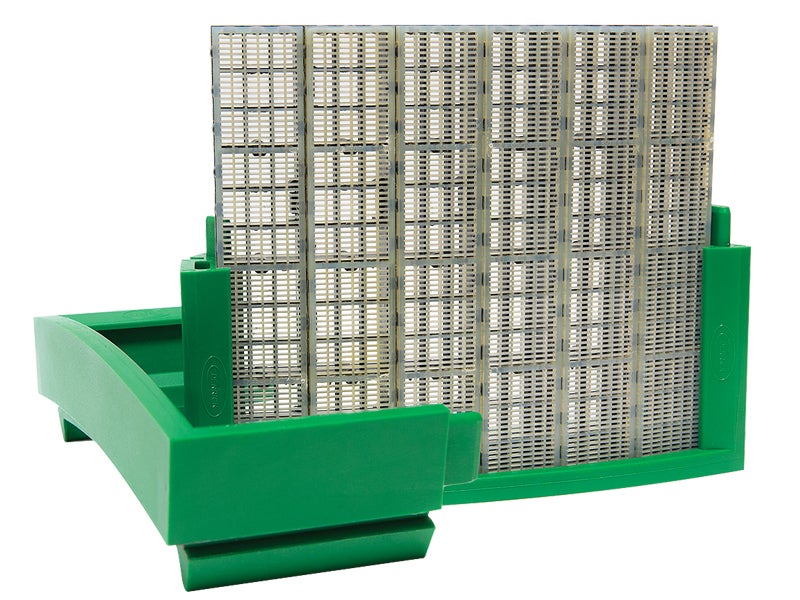 An individual 700-micron screen section with the accompanying cartridge.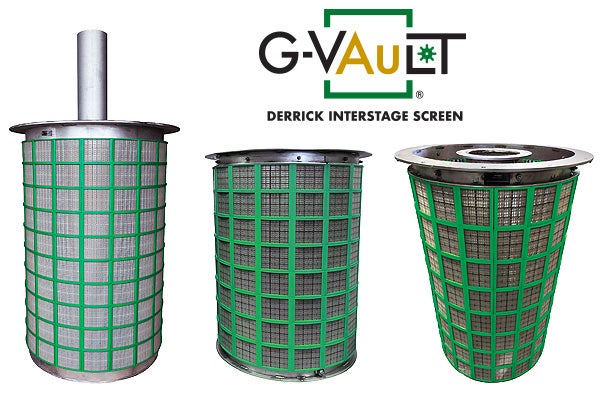 Derrick's bolt-in replacements of interstage screens.
Our highly skilled engineering staff designs equipment expressly to meet customer specifications. An in-house testing facility featuring full-size machines demonstrates screening effectiveness under actual field conditions and aids in creating optimized solutions to real-world mechanical processing needs.
Interstage screens for in CIL/CIP applications
The G-Vault® is a urethane surfaced interstage screens used in carbon/resin in pulp/leach (CIP/CIL and RIP/RIL) processes
G-Vault® is a bolt-on replacement for traditionally used wedge-wire screens in gold-loaded carbon and resin applications. Its replaceable individual components, coupled with a non-blinding surface, alleviates many of the operational concerns commonly associated with competitors' products. Additionally, an increase in open area of 33%, a proven record of longer run times, reduced maintenance attributed to higher throughput, and decreased downtime is the benchmark for excellence in gold processing mills.
Dewatering screens for carbon leaching applications
The Hyperpool dewatering screen, a dual-motor linear motion vibratory screening machine, incorporates unique synthetic polyurethane screen panels.
This offers higher capacity, extended life, and a non-blinding surface for trash, safety, dewatering, loaded carbon, and other dewatering screen applications.
Paired with a G-Vault® Interstage screen, Hyperpool trash, safety, and loaded carbon screens provide an effective solution for carbon leaching application problems.
Urethane surfaces for Rotex® machines
Polyweb® screens are high-performance urethane screens that directly replace the traditional woven wire screens used in the Rotex®, Megatex™, and mineral separator machines. The tapered relief angles built into each of the screen openings enhance the ability of the surface to remain free of the blinding issue typically associated with woven wire screens.
In addition, the abrasion-resistant properties of the urethane screens provide extended life of more than one year without failure and allow for up to an 80% reduction in scheduled maintenance and machine downtime when compared to wire surfaces.
Additionally, Polyweb® surfaces can withstand temperatures up to 300°F (149°C), which allows them to be used in screening applications that incorporate mechanical dryers in their process. The high-performance features of Polyweb screen surfaces are yielding significant cost savings and increased profitability in mineral separation operations.
Rotex® and Megatex™ are trademarks and/or registered trademarks of Rotex.
Stacked vibrating wet machines
The new 8-deck SuperStack® vibratory screening machine is Derrick®'s latest offering for fine wet sizing applications. A 56in-wide, dual-motor vibrating screening machine consisting of eight screening decks in a vertically stacked configuration to minimize footprint while maximizing productivity. With 8 decks operating in parallel and innovative Front-to-Back (FTB) tensioning system, the SuperStack has a demonstrated capacity up to 3 times that of its predecessor, the 5-deck Stack Sizer, with only a slight increase in the space required per machine.  This increase significantly reduces the total capital and installation cost, as well as OPEX for any screening installation.
The novel FTB screen tensioning system that draws the panel in the direction of flow rather than side to side ensures optimum screening efficiency by maintaining secure contact with the screen bed. In addition to increasing productivity, the tensioning system reduces screen panel changing time by 80% to 90% compared with side-to-side tensioning.
The motion of the vibratory motors is applied directly to the eight-screen frames. Dedicated feeders for each screen deck distribute feed slurry evenly across the screen beds. Auxiliary vibratory motors on the underside of each overs hopper aid in conducting solids toward the discharge flanges.
Wet screening machines
Derrick® offers incline and horizontal configurations available to meet the variable screening capacity needs of both the industrial mineral and precious metal industries. The machines' versatile design allows for the use of both traditional wire and Derrick® anti-blinding, high open area Polyweb® urethane screen panels. Abrasion-resistant urethane coatings and sealed-for-life Derrick® vibratory motors ensure long-life and low maintenance operation.
Dry screening machines
Our dry screening machines handle silica sand, plastics and resins, minerals, and other products in numerous screening applications.
Three types of Derrick® Dry Sizing machines are available to meet the ever-changing needs of the industrial mineral industries – Traditional Single and Double-Deck machines, "Front-To-Back" Single and Double-Deck machines and Multi-Deck machines. The traditional Single and Double-Deck machines' versatile design allows for the use of both traditional wire and Derrick anti-blinding, high open area Polyweb urethane screen panels.
Derrick® dry screening technology includes a combination of features that ensures outstanding dry screening performance for applications that require separations from approximately 1⁄2 inch (12.7mm) to 400 mesh (45 microns). Each machine is manufactured with Derrick®'s core principle – manufacture a robust machine with an operator-friendly operation that reduces operating costs through the use of long-lasting, low-maintenance components. 
Drilling machinery for the oil and gas sector
Derrick® manufactures innovative products to serve the ever-changing needs of the oil and gas drilling industry.
Leading-edge solutions and around-the-clock, award-winning service to maximize rig solids control efficiency are hallmarks of our commitment to its clients. Our separation technology equipment offers a high solids removal performance.
Customers use this equipment and innovative screen technology to consistently recycle and reuse drilling fluid while monitoring drilled solids and the environmental impact. Further removal of ultra-fine drilled solids is performed by Derrick®'s decanting centrifuges. When required, polymer dosing systems can be combined with the centrifuge to remove solids down to 0µm to enable mud disposal. Our equipment highlights rugged reliability in adverse environments and ever-changing drilling technologies.